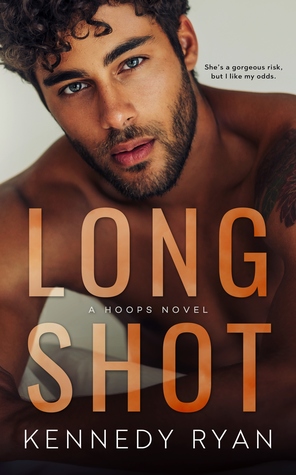 Title: Long Shot 
Author: Kennedy Ryan
Series: Hoops #1
Page Count: 306 pages
Genre(s): Romance, (A Standalone Basketball Romance)
Release Date: March 21, 2018
Reviewer: ~Wendy~
Rating: ✮4.5 Stars✮
~Synopsis~
A Standalone FORBIDDEN LOVE SET IN THE EXPLOSIVE WORLD OF THE NBA…
Think you know what it's like being a baller's girl? You don't.
My fairy tale is upside down.
A happily never after.
I kissed the prince and he turned into a fraud.
I was a fool, and his love – fool's gold.
Now there's a new player in the game, August West. 
One of the NBA's brightest stars.
Fine. Forbidden. 
He wants me. I want him.
But my past, my fraudulent prince, just won't let me go.
*Author's Note:  There are aspects of this story that may be sensitive for some readers.
---
---
---
I just knew going into this one, that there was gonna be angst…lots and lots of angst. But I am a tough chick, so I figured I could take it. 
Of course, I overestimated my toughness 
 That's oke though…No worries…
---