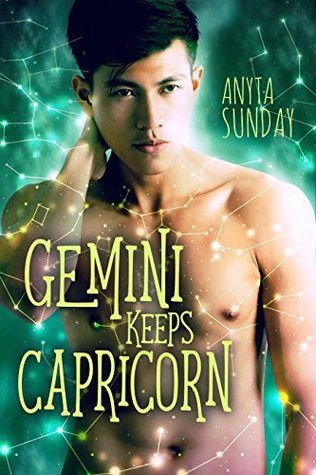 Title: Gemini Keeps Capricorn
Author: Anyta Sunday
Series: Signs of Love #3
Page Count: 281 pages
Genre(s): M/M, Contemporary Romance
Release Date: December 18, 2017
Reviewer: ~Wendy~
Rating: 4 Stars out of 5
~Synopsis~
Sometimes, one stubborn Capricorn is all it takes… to drive Wesley Hidaka to crazy, flirtatious lengths. 
Wesley loves annoying his RA Lloyd Reynolds. He just can't help it. Lloyd is focused, decisive, grounded. He has this amusing ability to follow rules. Of course Wesley wants Lloyd to break one… or three hundred. 
Sometimes, one smirking Gemini is all it takes… to have Lloyd laying down the law and marching Wesley straight back to his dorm room. 
It doesn't stop Wesley teasing again. And again. And again . . . But damn. Lloyd doesn't crack easily. He's full of principles. He's unshakable. He's the perfect friend to have when Wesley needs help. Like with his truant brother and his old high school principal. 
Sometimes, one little lie is all it takes…to find Wesley fake-engaged to his off-limits RA. 
What can he say? It seemed like a good idea at the time . . . 
"Gemini Keeps Capricorn" serves up a double shot of cluelessness, with a side of rock'n'roll and topped with a slow burn HEA. It can be read as a standalone. 
---
---
---
This is the third book in this series, and so far I have loved every single one… this one included. 😉
One thing is for sure though. Anyta is the queen of slow burn, and when I say slow…I do mean sloooooow. 😀
Normally I am not a real big fan of the "extreme" slow burn, but for some reason, this never bothers me as much, when reading one of Anyta's books. I still got frustrated at times though…Anyways, this book is about Wesley and Lloyd. They have known each other for some years and have become really close friends. Where Wesley is all about the fun and games, Lloyd is all about the rules.
I love a good "opposites attract" story! 😛
---