Check out this fantastic new release…




Read Dia's Review…and don't forget to enter the Giveaway!




You don't want to miss this book…grab your copy today!




More details below!

😀 
---
Title: Hat Trick
Author: Eden Finley
Series: Fake Boyfriend #5
Cover Design: Kellie Dennis/
Book Cover by Design
Photographer: Wander Aguiar
Model: Preston T.
Page Count: 335 pages
Genre(s): M/M, Romance
Release Date: November 5, 2019
Guest Reviewer: ~Dia~
Rating: ✮4 Stars✮
~Synopsis~
Soren:
You know what's not fun? Going on a Fiji vacation with four other couples. Especially when recently single.
What's even worse is when a past hook-up arrives unannounced.
Not only do we have a history, but he's ten years younger and a famous rock star. Most importantly, he's my friend's little brother.
Being trapped on an island with Jet Jackson is going to be sweet torture because all I want is another chance.
I just don't think he's going to give it to me.
Jet:
You know what's not fun? Escaping one guy who broke my heart only to run into another.
Being on the road for three years has left me exhausted. The last thing I want is for Caleb 'Soren' Sorensen to try for round two.
I can't fight my draw to him. I've never been able to.
I'm suddenly back to being the naïve kid who stupidly lusted after a hockey player.
All I can think is if I let Soren get close, I'll walk away from this vacation with a double broken heart.
—Hat Trick is a full-length M/M romance with a guaranteed HEA. This is the final book in the Fake Boyfriend series and as such is not recommended to be read as a standalone. All main characters of the series feature heavily.—
---
~Purchase Links~
---
---
This is book #5 in the Fake Boyfriend series by Eden Finley.
I really enjoyed the writing style and fell in love with all the characters in this series. It was a real pleasure to revisit all the couples. They are different but special in their own way.
I was looking forward to this one because I was super curious about Jet and Soren. I have to admit I didn't really feel the 10 years age gap between them.
Jet is the lead singer of a band. He's always on the road, opening the concerts for a bigger band.
Soren is a hockey player. He's struggling to find a team that would give him a contract with a no-trade clause, but he's afraid he might need to retire and he isn't ready yet.
They meet again in Fiji, where the "gay brigade" – the other couples in the series, spend a vacation together.
We get some flashbacks from the past, how Jet and Soren met, what happened between them 3 years ago. I was glad there weren't too many scenes with their memories. And now they are just as hot for the other, even if they fight it at first.
I can't say I agreed with the secrecy, and the "baby brother" comments in Soren's head. I also would have wanted more angst, maybe Jet's ex to make a bigger move on him. There are a lot of hot scenes and I could really picture them together. I loved the jealousy both felt.
What I loved the most would be the ending. It was extremely sweet and beautiful. Overall I really enjoyed it and would definitely recommend it!
---
---
---
~Other Books In the Series~



---
~About the Author~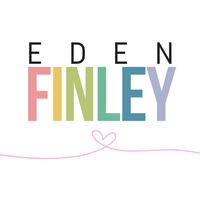 Eden Finley is an Amazon bestselling author who writes steamy contemporary romances that are full of snark and light-hearted fluff. She doesn't take anything too seriously and lives to create an escape from real life for her readers. The ideas always begin with a wackadoodle premise, and she does her best to turn them into romances with heart. With a short attention span that rivals her five-year-old son's, she writes multiple different pairings: MM, MMF, and MF. She's also an Australian girl and apologises for her Australianisms that sometimes don't make sense to anyone else.
~Follow the Author~
---
~Giveaway~
$25 Amazon Gift Card from Eden Finley
⇩

 Enter Now! 

⇩

Good luck, my friends!

😀
---