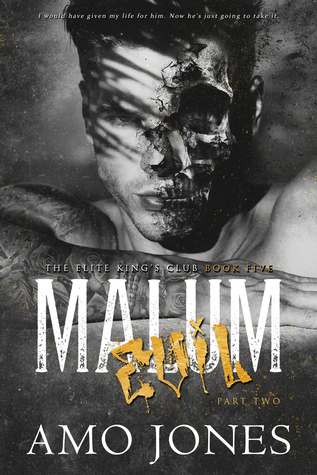 Title: Malum: Part 2
Author: Amo Jones
Series: The Elite King's Club #5
Page Count: 251 pages
Genre(s): Romance, Suspense, Dark
Release Date: June 11, 2019
Reviewer: ~Mary~
Rating: ✮5 Stars✮
~Synopsis~
Some girls don't like pretty things.
Some girls like things that are destructive, and toxic. Things that fuel our bodies with adrenaline and bring our demons to their knees. 
They say magic isn't real, but it's it the closest way to describe love? It doesn't exist physically. It merely exists around us, within us, possessing our souls and making us do stupid shit. Shit like falling in love with a boy who knows how to rip my world apart and raise hell with a simple flick of his wrist. Their secrets are now mine. I'm not just in the middle of this game, I'm helping orchestrate it. Can the cries of my aching soul be enough to drown out the burning embers of my mistakes?
The mind strengthens the heart, roughing the edges to prepare it for war. This is a war I will not win. This is a war of fate.
𝑆ℎ𝑒'𝑠 𝑔𝑜𝑖𝑛𝑔 𝑡𝑜 𝑏𝑟𝑒𝑎𝑘.
𝑆ℎ𝑒'𝑠 𝑔𝑜𝑖𝑛𝑔 𝑡𝑜 𝑓𝑎𝑙𝑙.
𝑆ℎ𝑒 𝑤𝑖𝑙𝑙 𝑒𝑣𝑒𝑛𝑡𝑢𝑎𝑙𝑙𝑦 𝑐𝑜𝑚𝑒 𝑏𝑎𝑐𝑘 𝑡𝑜 𝑚𝑒, 𝑜𝑛 𝑎𝑙𝑙 𝑓𝑜𝑢𝑟𝑠
𝐵𝑒𝑐𝑎𝑢𝑠𝑒 𝑡ℎ𝑖𝑠 𝑖𝑠𝑛'𝑡 𝑎 𝑓𝑎𝑖𝑟𝑦 𝑡𝑎𝑙𝑒
𝐼 𝑎𝑚 𝑛𝑜 𝑘𝑛𝑖𝑔ℎ𝑡.
𝐼'𝑙𝑙 𝑡𝑎𝑘𝑒 𝑎𝑙𝑙 𝑜𝑓 ℎ𝑒𝑟 𝑠𝑜𝑢𝑙
𝐴𝑛𝑑 𝑝𝑜𝑢𝑟 𝑖𝑛 𝑚𝑦 𝑠𝑝𝑖𝑡𝑒.
𝑁𝑜 𝑙𝑖𝑔ℎ𝑡.
𝑁𝑜 𝑙𝑖𝑔ℎ𝑡.
𝐸𝑣𝑒𝑛 𝑚𝑦 𝑑𝑎𝑟𝑘𝑛𝑒𝑠𝑠, 𝑠𝑢𝑟𝑣𝑖𝑣𝑒𝑠 𝑖𝑛 𝑑𝑎𝑦𝑙𝑖𝑔ℎ𝑡.
𝑇ℎ𝑖𝑠 𝑖𝑠𝑛'𝑡 𝑎 𝑓𝑎𝑖𝑟𝑦-𝑡𝑎𝑙𝑒.
𝐵𝑢𝑡 𝑙𝑜𝑣𝑒 𝑑𝑜𝑒𝑠 𝑤𝑖𝑛
𝐵𝑒𝑐𝑎𝑢𝑠𝑒 𝑒𝑣𝑒𝑛 𝑡ℎ𝑟𝑜𝑢𝑔ℎ 𝑡ℎ𝑒 𝑠𝑖𝑛
𝐼𝑡'𝑠 ℎ𝑒𝑟 𝑡ℎ𝑎𝑡 𝑙𝑖𝑛𝑔𝑒𝑟𝑠 𝑤𝑖𝑡ℎ𝑖𝑛.
𝑆ℎ𝑒 𝑏𝑒𝑎𝑡𝑠 𝑡ℎ𝑟𝑜𝑢𝑔ℎ 𝑚𝑦 𝑣𝑒𝑖𝑛𝑠.
𝑊ℎ𝑖𝑠𝑝𝑒𝑟𝑠 𝑜𝑣𝑒𝑟 𝑚𝑦 𝑓𝑙𝑒𝑠ℎ
𝑇𝑢𝑔𝑠 𝑜𝑛 𝑚𝑦 ℎ𝑒𝑎𝑟𝑡 𝑠𝑡𝑟𝑖𝑛𝑔𝑠
𝐿𝑖𝑘𝑒 𝑎 𝑝𝑢𝑝𝑝𝑒𝑡 𝑡𝑎𝑛𝑔𝑙𝑒𝑑 𝑖𝑛 𝑎 𝑚𝑒𝑠𝑠
𝑊𝑖𝑙𝑙 𝑚𝑦 ℎ𝑒𝑎𝑟𝑡 𝑏𝑒 𝑒𝑛𝑜𝑢𝑔ℎ
𝑇𝑜 𝑏𝑟𝑖𝑛𝑔 ℎ𝑒𝑟 𝑏𝑎𝑐𝑘 𝑡𝑜 𝑙𝑖𝑓𝑒
𝑊ℎ𝑒𝑛 𝑡ℎ𝑒 𝑓𝑖𝑟𝑠𝑡 𝑡ℎ𝑖𝑛𝑔 𝑠ℎ𝑒 𝑟𝑒𝑎𝑐ℎ𝑒𝑑 𝑓𝑜𝑟
𝑊𝑎𝑠 𝑛𝑜𝑡 ℎ𝑖𝑚
𝑂𝑟 ℎ𝑖𝑚
𝑂𝑟 𝑚𝑒
𝐼𝑡 𝑤𝑎𝑠 𝑡ℎ𝑒 𝑜𝑛𝑒 𝑝𝑒𝑟𝑠𝑜𝑛 𝑡ℎ𝑎𝑡 ℎ𝑎𝑢𝑛𝑡𝑒𝑑 ℎ𝑒𝑟, 𝑖𝑛𝑡𝑜 𝑚𝑖𝑠𝑒𝑟𝑦.
𝑇ℎ𝑖𝑠 𝑖𝑠𝑛'𝑡 𝑎 𝑔𝑎𝑚𝑒.
𝑇ℎ𝑜𝑠𝑒 𝑎𝑟𝑒𝑛'𝑡 𝑚𝑦 𝑡𝑟𝑖𝑐𝑘𝑠
𝐼𝑓 𝑠ℎ𝑒 𝑑𝑜𝑒𝑠𝑛'𝑡 𝑜𝑏𝑒𝑦
𝑇ℎ𝑒𝑟𝑒'𝑠 𝑎 𝑛𝑢𝑚𝑏𝑒𝑟…86
---
---
---
In a very short time, Amo Jones has become one of my favorite authors. She is an exceptional author and an amazing person. She is a definitely on click author for me, and all her future books will always be on my most anticipated book lists of all time. I have complete confidence and trust in her talent.
With a unique style, she will put you on your knees, make you cry, scream, break your heart, question your sanity, torture you, but you will love every second of it. You will be ruin and marked forever. If you're new to her work, you must consider that Malum: Part 2, is the fifth book in Elite King's Club Series, and it's best if you read them in order…You must read them in order!
Amo Jones broke my heart in Malum: Part 1 (Elite King's Club #4), but she managed to fix it back together in Malum: Part 2. Not completely, because my heart is still broken for Midship…Tillie is still the perfect heroine. Although she is broken and suffered a lot, she is fearless and strong. A true Queen, reckless, never backing down to anyone. Brave, fierce, smart sassy and loyal, she is Nate perfect match and the Kings equal.
Nate is still the alpha a-hole, playboy, still the devil himself. If in Malum: Part1, we got to see his evil, dangerous and vengeful side regarding Tillie, in Malum: Part 2, we see his soft and lovable side. He is still the heartless, ruthless, raw, dangerous King, don't be fooled by him. He is out on revenge, he is on a mission, and he will succeed. But he will be tamed.
The rest of the Kings are not forgotten. Bishop and Maddison are in a very bad place. My heart broke for them. Eli has a strong appearance and of course, the creme a' la creme, MY King Brantley isn't left behind. I have a feeling, Brantley's book/story will rock our world, knowing how troubled his life has been and his soul is.
Some of your questions will get answers, but at the end of the book, you will be left with new questions…Mystery, suspense, drama, twists, and turns, mindfuck, mind-blows, hotness, all courtesy of the puppet master Amo Jones.
I highly recommend!💕
---
---