Check out this fantastic new release…




Read an Excerpt, Judith's Review…and grab your copy today!




You don't want to miss this book…




More details below!

😀 
---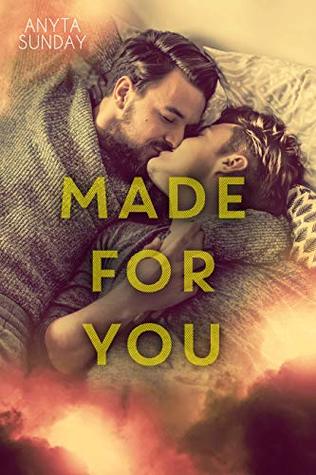 Title: Made for You
Author: Anyta Sunday
Series: Love and Family #2
Page Count: 258 pages
Genre(s): M/M, Romance
Release Date: May 1, 2019
Guest Reviewer: ~Judith~
Rating: ✮5 Stars✮
~Synopsis~
Ben wants to find a new home. 
Twenty-four-year-old Ben McCormick is the primary caregiver for his brother Milo after their parents' death. A year into the job, he's totally got the hang of it. Mostly. Sort of. Not at all? 
Defeated and thoroughly chastised for his lack in parenting skills at teacher-parent night, Ben slumps away with the resolve to finally get his life sorted: be a better role model, and sell their parents' house for a fresh start. 
But first, he needs to spruce up his house to hit the market. He's no DIY king, but Milo's hot-as-hell woodwork teacher is… 
Jack wants an old home to fix. 
Thirty-nine-year-old Jack Pecker is waiting for the home of his dreams to come on the market in the summer. What better way to wait the interim months than working on a small renovation gig? 
Only trouble is, the gig is for the McCormick brothers. And working in close quarters to red-haired Ben McCormick won't be easy. Not with the attraction that simmers between them. Attraction Ben makes no effort to hide. 
But Jack's professional. Dating a parent is highly discouraged at Kresley Intermediate, and he'd never cross the lines… 
Ben and Jack. Two guys searching for a home –– a home that might just be where their hearts lead them. 
–Set in New Zealand, Made For You (Love & Family #2) is an MM gay romance featuring two guys at very different places in their lives – but both finding out they are looking for the same thing. Can be read as a standalone. 
Tropes: friends-to-lovers, slow burn, age gap, found family 
Genre: New Adult, light-hearted contemporary gay romance–
---
~Purchase Links~
---
---
Perfect…Just perfect. I'm gushing and fangirling bit time here. I think this might just be my favorite book by Anyta Sunday. Talk about bringing the feelings, I'm sure I had a dopey smile on my face the whole time I was reading this.
The story in brief: Ben is 24 and struggling to bring up his younger brother, Milo, after their parents' death. He's dead set on selling the family home but renovations are needed and who better to help than Milo's woodwork teacher…and the fact he's hot is definitely an added bonus.
There is honestly so much to love here…my heart melted for Ben. He's convinced he's not doing a good job with Milo-constantly second-guessing himself. I absolutely LOVED the relationship between the two brothers. From their love of bird watching, and orange Fanta. Milo is 11 full of attitude and sarcasm but, at the same time, his vulnerability is so endearing.
Age difference that worked so well here. Ben and Jack couldn't have been more perfect for each other. The feeling of family and home is ever present. I loved the laughter and struggles that were so true to life. Bringing up children is one of the hardest and most rewarding jobs there is and the Author totally nailed it.
The slow burn that Anyta Sunday is known for and delivered perfectly here. There are sex scenes but I honestly wouldn't have minded if there weren't any. The connection between Jack and Ben was just so damn special…I got so teary at times ( in a good way ).
"I look at Ben and I see a future. I see shared dinners and overshared stories. I see stupid fights and silly gestures to make up for them. I see him and Milo in the villa. A family to laugh with during the day. A partner to moan with during the night. The dream hangs between us."
Jack's Ben is the best because speech to Milo was, well, special. I think I read it about three times at least. I can't fault this. I loved this little family of three with a passion. Read it…you'll fall hopelessly in love with these guys. 
I highly recommend this book! 💕 
---
---
~Excerpt~
Read an Excerpt from Made for You
Copyright © 2019 by Anyta Sunday . All rights reserved.
~*~

When I return, Milo has turned around, finally facing Ben. "I don't want you to sell the house."

"Look, it won't happen immediately. But it will happen."

"It's not fair."

"Not got the memo yet, bucko? Life isn't fair."

They stare at each other. I don't want to break their moment, but a twig snaps underfoot.

Milo spots me and his body jerks with surprise. "Mr. Woodpecker?"

I cut Ben a look, and he pauses to smirk before turning his chin toward Milo. I think he might tell him to cut that shit out.

"Mr. Woodpecker holds your Fanta ransom."

Or not.

I'm close to putting an end to this stand-off and barking orders. If Milo were my kid, I'd have his ass in bed by now, no media for a fortnight.

Not my kid. Not my kid.

Ben reads my face and his expression shutters. "Fuck. We're pissing off your teacher. How much will it take to get you down?"

He pulls a wallet from his back pocket.

"Fifty," Milo hollers.

"Five."

"Forty."

This is not actually happening. Ben's parenting is unorthodox at best.

"Ten."

"Thirty-five, and not a dollar less."

"Fifteen, and you shower before bed."

Milo leans over the edge and reins in his shout. "Do I have to do my hair?"

Ben looks like he's about to give into a frustrated laugh. The poor guy is damp and muddy and miserable, and Milo needs to quit it.

I catch Milo's gaze and hold it. It might not be my place, but I have to do something for Ben. My voice is steady and commanding. "Get your butt down here, boy. Or I'll have you cleaning the class bins all week."

"Fine. Fifteen bucks. I'll do my hair." He lowers a ladder and I brace the shitty thing as he climbs down.

Ben crowds close behind me, a block of warmth at my back. He lets out a breathy 'thank fuck' at my nape that feels a lot like brushing up against an electric line that definitely shouldn't be crossed.

~*~
---
---
~About the Author~
A bit about me: I'm a big, BIG fan of slow-burn romances. I love to read and write stories with characters who slowly fall in love. Some of my favorite tropes to read and write are: Enemies to Lovers, Friends to Lovers, Clueless Guys, Bisexual, Pansexual, Demisexual, Oblivious MCs, Everyone (Else) Can See It, Slow Burn, Love Has No Boundaries. I write a variety of stories, Contemporary MM Romances with a good dollop of angst, Contemporary lighthearted MM Romances, and even a splash of fantasy. My books have been translated into German, Italian, French, Spanish, and Thai.
~Follow the Author~
Website | Facebook | Twitter | Instagram | BookBub | Newsletter
---
---