Check out this fantastic new release…




Read Mary's Review…and grab your copy today!




You don't want to miss this book…




More details below!

😀 
---
Title: I Promise You
Author: Shantel Tessier
Series: Dare #2
Page Count: 180 pages
Genre(s): Dark Romance
Release Date: April 26, 2019
Reviewer: ~Mary~
Rating: ✮5 Stars✮
~Synopsis~
You must have read I Dare You first
It was supposed to be a game. I Dare You.
We bought her in 'cause I wanted to play with her. Destroy her.
But plans change and she got caught in the cross fire.
Then I did something far worse. I fell in love with her, but she doesn't know I still have secrets. Ones that could rip us all apart.
We're sharks. Raised to hunt and kill. We take what we want without asking.
We've never needed permission before, so I'm not about to start now.
You think you know everything, but we're about to do what we do best and prove you wrong- I Promise You! 
---
~Purchase Links~
Also Available
$1.99 for a limited time!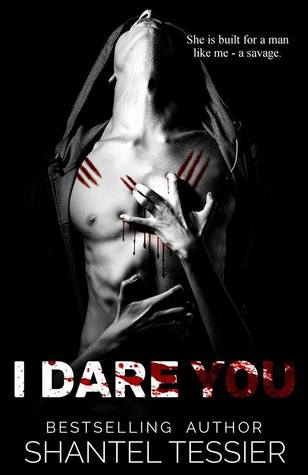 ---
---
Shantel Tessier will rock your world again. She never disappoints, and especially not now with I Promise You. You thought that with book 1 I Dare You that you found out everything?!… You will not know what hit you. Prepare to be blown away! Cole is back ladies, and he isn't alone…The GWS…are back!
I Promise You is the second book in the Dare Series, and you MUST read I Dare You first. The story is told from Cole's, Deke's and Bennett's POV and continues from were book 1 ends. I don't want to ruin everyone surprises by telling you too much, because everything is like puzzle pieces, only the puzzle will not be resolved with this book.
When I found out after I read I Dare You that will be a series, I was crazy happy because I didn't want Austin's and Cole's story to end. I wanted more…I had too many questions unanswered, way too many secrets still undiscovered, and some characters with their stories completely untold like Deke's and Bennett story, who you will actually find quite a complete mystery.
If so far you new Cole as a ruthless and raw badass son of a be@ch, don't worry, he still is all that, but so much more. He is capable of love, regret and most of all he is scared. Scared to lose the most important thing in his life, Austin.
We get a new and different side of Deke. His relationship with Becky a complete mystery and some events that will blow your mind. Bennett is another mystery because I don't know on whose side he is.
The playlist of this book is insane. I'm listening to it non-stop. This book is an amazing dark love story that begins in book 1. You might say it's the same, but trust me it's not, it's different and definitely something else…You must read this series and I can't wait to read the next book, Deke's story If You Dare.
I highly recommend this book!💝
---
---
~About the Author~
Shantel is a Texas born girl who now lives in Tulsa, Oklahoma with her high school sweetheart, who is a wonderful, supportive husband and their two daughters. She loves to spend time cuddled up on the couch with a good book. She considers herself extremely lucky to get to be a stay at home wife and mother. Going to concerts and the movies are just a few of her favorite things to do. She hates coffee but loves wine. She and her husband are both huge football fans, college, and NFL. And she has to feed her high heel addiction by shopping for shoes weekly. Although she has a passion to write, her family is most important to her. She loves spending evenings at home with her husband and daughters, along with their cat and dog. Make sure to follow her on all social media sites!
~Follow the Author~
---