Check out this fantastic new release…




Read an Excerpt, Dia's Review…and don't forget to enter the Giveaway!




You don't want to miss this book…grab your copy today!




More details below!

😀
---
Title: Arctic Sun
Author: Annabeth Albert
Series: Frozen Hearts #1
Publisher: Carina Press (Harlequin)
Page Count: 384 pages
Genre(s): M/M, Romance
Release Date: April 1, 2019
Guest Reviewer: ~Dia~
Rating: ✮3.5 Stars✮
~Synopsis~
Everything's bigger in Alaska, especially the HEAs. Annabeth Albert kicks off the brand-new Frozen Hearts series with Arctic Sun, an opposites-attract romance between a rugged outdoorsman and a smoking hot former male model.
He's built a quiet life for himself in Alaska. But it doesn't stand a chance against the unrelenting pull of a man who's everything he shouldn't want.
Ex-military mountain man Griffin Barrett likes his solitude. It keeps him from falling back into old habits. Bad habits. He's fought too hard for his sobriety to lose control now. However, his gig as a wildlife guide presents a new kind of temptation in superhot supermodel River Vale. Nothing the Alaskan wilderness has to offer has ever called to Griffin so badly. And that can only lead to trouble…
River has his own methods for coping. Chasing adventure means always moving forward. Nobody's ever made him want to stand still—until Griffin. The rugged bush pilot is the very best kind of distraction, but the emotions he stirs up in River feel anything but casual, and he's in no position to stay put.
With temptation lurking in close quarters, keeping even a shred of distance is a challenge neither's willing to meet. And the closer Griffin gets to River, the easier it is to ignore every last reason he should run.
-One-click with confidence. This title is part of the Carina Press Romance Promise: all the romance you're looking for with an HEA/HFN. It's a promise!
—Warnings-Publisher's Note: Arctic Sun deals with topics some readers may find difficult, including sobriety and eating disorders.—
---
~Purchase Links~
---
---
This book wasn't what I expected. But I ended enjoying it. It has a sadness vibe. Or at least this is how it felt to me…It's the first book in the Frozen Hearts series by Annabeth Albert.
For some reasons, I couldn't quite connect to the characters. At first, I thought it had something to do with Griffin's determination to keep his distance from everyone. But after meeting the beautiful ex-model River, he was even harder to approach. It's such a slow – slow burning.
We get great descriptions of Alaska, some hot scenes, but also angst. The main characters deal with eating disorders and sobriety, as it is mentioned in the blurb…Told in dual POV we get both their backgrounds, and even if I didn't quite understand some of their choices, I got invested into the story. But it took some time.
To be honest, I think this book could have been shorter. It kind of felt too long and at least to me, it became tiring. But the ending was sweet and the next book will bring Toby's story – with a silver fox attorney. I'm looking forward to reading it. The excerpt we get at the end of this one made me curious…
---
---
~Excerpt~
Griffin gave what he hoped passed for a smile. "Someone else's turn?"

"I'll go." River offered another of those supernova smiles. "I've ridden an elephant, I once had to wear a live cactus on my head, I've got six piercings, and I love my unicorn tattoo."

"No way on the tattoo," Griffin growled, forgetting to let one of the customers go first. "Pretty sure that's not allowed in modeling, right?"

"I'm a rebel." River waggled his eyebrows at him. Judging by their shade, his natural hair color was brown, a bit lighter than Griffin's own hair, in keeping with River's pale coloring.

"Live cactus?" Dan snorted. "That sounds painful." "It was." River gave another of those musical laughs. "Then it must be the piercings. I remember the elephant riding from your book." Melanie beamed at River like a kid expecting a good grade.

"Yup. Only got four." River looked right at Griffin as he delivered this bit of news. Griffin tightened his jaw. Now he was going to wonder about the location of those piercings and that tattoo all night, and he had a feeling that might have been River's goal. His ears were the obvious choice for two piercings, but where else? Nipples? Tongue? He did not need to let his thoughts wander down this path.
---
---
~About the Author~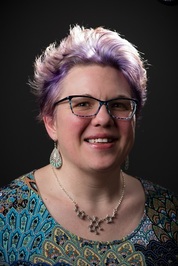 Annabeth Albert grew up sneaking romance novels under the bed covers. Now, she devours all subgenres of romance out in the open—no flashlights required! When she's not adding to her keeper shelf, she's a multi-published Pacific Northwest romance writer. Emotionally complex, sexy, and funny stories are her favorites both to read and to write. Her critically acclaimed and fan-favorite LGBTQ romance series include the #OutOfUniform, #Gaymers, #PortlandHeat, #RainbowCove and #PerfectHarmony series. To find out what she's working on next and other fun extras, check out her website: annabethalbert.com or connect with Annabeth on Twitter, Facebook, Instagram, and Spotify! Also, be sure to sign up for her newsletter for free ficlets, bonus reads, and contests. The fan group, Annabeth's Angels, on Facebook is also a great place for bonus content and exclusive contests.
~Author Links~
Twitter| Facebook| Facebook Group| Newsletter| Instagram| Website 
---
~Giveaway~
Enter to win 1 of 2 paperback copies of Arctic Sun + a fun-filled swag pack!
Must be 18 to enter and win, open internationally.
⇩

 Enter Now! 

⇩

Good luck, my friends!

😀
---