Check out this fantastic new release…




Read Wendy's Review…and enter the Giveaway!




You don't want to miss this book…grab your copy today!




More details below!

😀 
---
Title: Bitten By Fate
Author: Annabelle Jacobs
Series: Regent's Park Pack #6
Cover Design: Natasha Snow
Page Count: 215 pages
Genre(s): M/M, Romance
Release Date: March 5, 2019
Guest Reviewer: ~Wendy~
Rating: ✮4.5 Stars✮
~Synopsis~
Daryl plays with fire and gets burned by fate… 
Former Primrose Pack member Jason Black happily accepted his role as beta in the new Regent's Hill pack, knowing that merging the two was the best decision for everyone involved. Daryl Easton is loyal and honest but wary of change. The joining of the two packs wasn't his preferred outcome, and he's struggling to see all the newcomers as pack, including those now working alongside him.
When the alpha council proposes a two-week pack-building course to help improve troubled relationships, Jason and Daryl are sent along as backup. It soon becomes clear that the unit members and their betas won't be the only ones taking part in tasks—Daryl and Jason will have challenges of their own to complete. 
With the full moon adding to the rising tension, emotions are volatile, and tempers flare among the unit members. Jason and Daryl become closer than either of them expected, but with such opposing views on relationships, a messy outcome seems inevitable unless Daryl can let go of the past.
---
~Purchase Links~
---
---
I can't believe this awesome series has come to an end. I am such a big fan and I'm really gonna miss this great world that the author created. To say I have read and loved each and every one of the books in this series would be a small lie…since I have skipped Bitten by Her, but other than that one, I did!!
---
I don't think it's smart to read these books as stand-alone. You should really start at the beginning and get to know this world. You will be very confused if you just jump in somewhere in the middle. So if you haven't yet…go and one-click book 1, Bitten by Mistake, you won't be sorry. They just keep getting better and better!
This time it's Darryl and Jason's turn and I was very curious how this would play out since I really didn't know Darryl all that well and Jason, he came from the other pack, Primrose Pack…
---
It is common knowledge around the Regent's Hill Pack, that something needs to be done about (some of) the former Primrose Pack members. The joining of the two packs hasn't been smooth, to say the least, and there are still some members refusing to play nice. So the Alpha Council has come up with a great idea…team building…or in this case Pack building. Maybe working as a team and relying on each other will get the spirit going.
Even though Jason and Daryl are not the Beta's of the members that are going on this little trip, they are sent along as back up…and to do a little team building of their own…And boy does they… With the two of them sharing a room and the full moon nearly rising, these two hit it off big time. 😉
But while Jason is a bit of a romantic at heart, and wants nothing more than someone to bond with…Daryl is just looking for a sexy hook-up. Bonds, scare the shit out of him. So maybe getting up close and very personal isn't the smartest thing to do for them…!?
I really enjoyed this one. I loved the teambuilding and the interactions with all the other members…It was funny, sweet and hot and even a bit emotional at times. Jason and Daryl were awesome characters I think, and they were a match made in heaven.
---
I am gonna miss these guys but thankfully I will always have my re-reads. I have loved them all, though Bitten by Desire is still my favorite I think…I'm gonna keep my eye on this author though and hope she will come up with something new that will blow me away again.
I highly recommend this series! 💞 
---
---
~Other Books In the Series~
Regent's Park Pack Series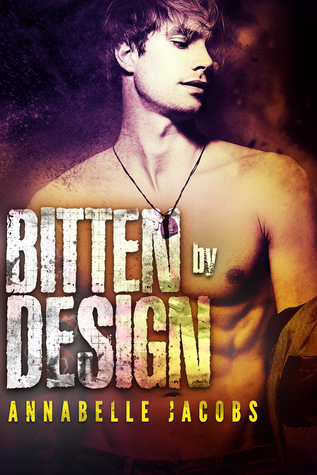 ---
~About the Author~
Annabelle Jacobs lives in the South West of England with three rowdy children, and two cats. An avid reader of fantasy herself for many years, Annabelle now spends her days writing her own stories. They're usually either fantasy or paranormal fiction, because she loves building worlds filled with magical creatures, and creating stories full of action and adventure. Her characters may have a tough time of it—fighting enemies and adversity—but they always find love in the end.
~Social Media Links~
Email –
ajacobsfiction@gmail.com
---
~Giveaway~
$10 Amazon Gift Card
Bitten By Mistake and Bitten By Desire Ebooks
⇩

 Enter Now!

 ⇩ 
Good luck, my friends!

😀
---