Title: Hiding the Moon
Author: Amy Lane
Series: Fish Out of Water #4
Publisher: Dreamspinner Press
Page Count: 216 pages
Genre(s): M/M, Romance, Mystery/Suspense
Release Date: October 23, 2018
Reviewer: ~Wendy~
Rating: ✮4 Stars✮
~Synopsis~
A Fish Out of Water/Racing for the Sun Crossover
Can a hitman and a psychic negotiate a relationship while all hell breaks loose?
The world might not know who Lee Burton is, but it needs his black ops division and the work they do to keep it safe. Lee's spent his life following orders—until he sees a kill jacket on Ernie Caulfield. Ernie isn't a typical target, and something is very wrong with Burton's chain of command.
Ernie's life may seem adrift, but his every action helps to shelter his mind from the psychic storm raging within. When Lee Burton shows up to save him from assassins and club bunnies, Ernie seizes his hand and doesn't look back. Burton is Ernie's best bet in a tumultuous world, and after one day together, he's pretty sure Lee knows Ernie is his destiny as well.
But when Burton refused Ernie's contract, he kicked an entire piranha tank of bad guys, and Burton can't rest until he takes down the rogue military unit that would try to kill a spacey psychic. Ernie's in love with Burton and Burton's confused as hell by Ernie—but Ernie's not changing his mind and Burton can't stay away. Psychics, assassins, and bad guys—throw them into the desert with a forbidden love affair and what could possibly go wrong?
---
---
---
I enjoyed this one…though not as much as I did the previous three books in the "Fish out of Water" series. Probably because this book features a different couple…a couple I knew already..but still a different couple. It was also a bit different because of the paranormal element…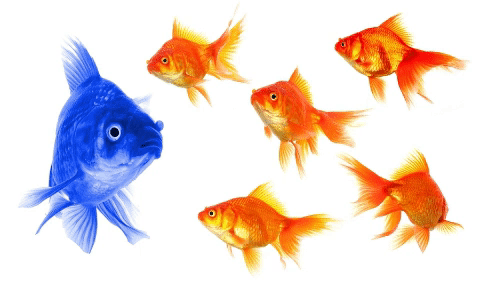 First things first. This story is a  Fish Out of Water/Racing for the Sun crossover, and so I advise against reading it as a stand alone. It actually runs parallel to A Few Good Fish…
---
Lee Burton and Ernie Caulfield were introduced into us in the previous book. Now let me get the whole "name thing" out of the way first…I just can't get over the fact, that they are Bert and Ernie, and I just have issues with feeling anything sexy, when it comes to their names 😛 Just to be clear…for me it's just Lee and Ernie. 😉
These two meet when Lee is sent to assassinate Ernie but ends up saving him instead. Ernie is left safely with Sonny and Ace (Racing for the Sun), while Lee goes undercover to catch the guy, who wants Ernie dead.
They spend a lot of time apart, but because of Ernie's psychic abilities and the link they share, they are still connected…in some way
No worries though…there are still plenty of times when they are together, and so we also get to be part of their physical connection..hehe. 😛
---
I really enjoyed this one, it was fun and sweet, exciting and hot…I just liked Jackson and Ellery a tad bit more. 😉
I highly recommend! 
---
➦
---