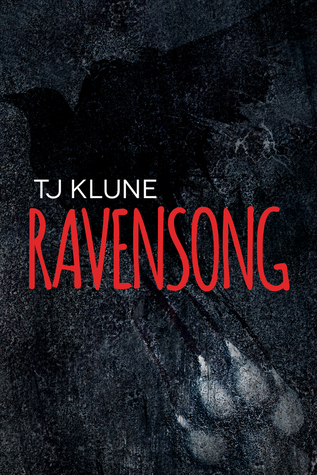 Title: Ravensong
Author: TJ Klune 
Series: Green Creek #2
Publisher: Dreamspinner Press
Page Count: 400 pages
Genre(s): M/M, Romance, Fantasy, Werewolves/Shapeshifters
Release Date: July 31, 2018
Reviewer: ~Wendy~
Rating: ✮5 Stars✮
~Synopsis~
Gordo Livingstone never forgot the lessons carved into his skin. Hardened by the betrayal of a pack who left him behind, he sought solace in the garage in his tiny mountain town, vowing never again to involve himself in the affairs of wolves.
It should have been enough.
And it was, until the wolves came back, and with them, Mark Bennett. In the end, they faced the beast together as a pack… and won.
Now, a year later, Gordo has found himself once again the witch of the Bennett pack. Green Creek has settled after the death of Richard Collins, and Gordo constantly struggles to ignore Mark and the song that howls between them.
But time is running out. Something is coming. And this time, it's crawling from within.
Some bonds, no matter how strong, were made to be broken.
---
---
---
I love TJ Klune, I think he really does write magic! 
"Wolfsong" was my nr. 1 book for 2016 and I am sure that "Ravensong" will end up being my best read of 2018. It was raw, emotional, heartbreaking and funny. In short, it was wonderful…
---
Now, TJ always asks to keep reviews spoiler-free, and since I worship the ground he walks on…you won't be getting a whole lot of info from me…sorry!
This book should not be read as a stand-alone, you need to read "Wolfsong" first. There are times this book runs parallel to Wolfsong, so it's important you know all that has happened…If you have read Wolfsong and you are not like me (who re-reads it every couple of months), maybe it would be smart (and fun) to read it again. 😉
---
Gordo and Mark have a long history together and this book shows us a lot of that history. Gordo broke my heart and made me cry out loud!!!
 Reading about all that has happened to him…I got so mad on his behalf!!! And their suffering isn't done yet, there is more to come. It isn't fair, but when is it ever??
They will all have to stand together, the whole pack,  to fight this fight… 
Something is coming. And this time, it's crawling from within.
---
Unfortunately, I can't give you any more…I agree with TJ, that this one should be read spoiler-free. That said…I think those of you who loved Wolfsong, will love this one as well. But it doesn't end here…there is more to come and I myself can't wait!!
I highly recommend this series! 💗 
---
---