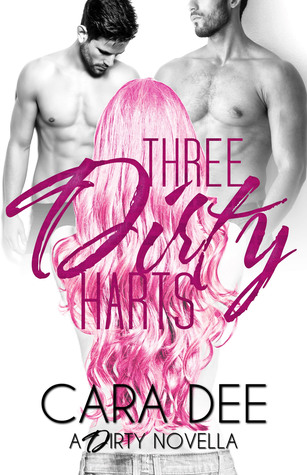 Title: Three Dirty Harts
Author: Cara Dee
Publisher: Self-Published
Page Count: 89 pages
Genre(s): M/F/M, Erotic Romance
Release Date: April 30, 2018
Reviewer: ~Mary~
Rating: ✮4 Stars✮

~Synopsis~
Belle has a wicked fantasy and a secret desire, and she doesn't know how to hide her feelings anymore.
Andrew has a passion for family and a love for detail, and there are no words that can describe how much he's looking forward to having his stepdaughter and his younger brother home for the summer.
Jace has an eye for beauty and a thirst for adventure, and he's the first one to notice that something is different when Belle steps off the plane.
From the outside, these three don't seem to have much in common. But on the inside…their their hearts are as dirty as they come.
---
---
---
This is my second read from this author, and I must say I really like it. But my favorite remains the first book I read by this author, This Life I …This is a quick and short read, more erotic than romantic, but very very hot… and I'm a big fan of menage' and daddy kink…The book tells the story of three people. They are all attracted to each other and although they try to fight that attraction they still fall in love.
---
Belle is a student in London…She went that far away to put some distance on her feelings for her step daddy and his brother. When she was six, her mother married Andrew, but six years ago, her mother passed away, so Andrew took care of her.
Andrew is a businessman and he loves his daughter as his own…he loves her very much and he also loves and cares for his brother. Andrew is upset because nothing is, or feels right/good now in his life, something is missing. Of course, Andrew had some dirty thoughts about his stepdaughter, but he pushed them aside…He was freaking out about those feelings…

Jace is Andrew little brother…He is now recovering from an accident. He is a professional photographer who captures nature's beauty. After his accident, Jace wants a break from his lifestyle. He was always on the road, far away from home without any friends…Now he wants to make some changes in his life.
The book is short, easy and fast to read but sooo hot!!!
For me, it was a great read! 
---