Title: Roommates
Author: M.E. Parker
Page Count: 127 pages
Genre(s): M/M/F, Romance
Release Date: March 26, 2018
Reviewer: ~Mary~
Rating: ✮4 Stars✮
~Synopsis~
One failed blow job… One steamy encounter between a professor and student… 
One bad break up… Two seriously hot, womanizing rugby players… 
More than a few shots of whiskey… One dirty game of truth or dare… Put them all together and you a get a recipe for a night that will change everything for Janie and her college roommates, Jake and Ethan. 
Truth? The truth is, it gets hot. Very hot. Very fast. 
Dare? I dare you to keep reading to find out just how hot. 
—Roommates is an erotic m/m/f contemporary romance that follows three college roommates—Ethan, Janie, and Jake—on their journey from friendship to love. This unconventional love story between the three graduate students deals with the struggles they will have to face living in a small southern college town as they try to overcome societal barriers to their relationship.—
WARNING: This book is for readers over the age of eighteen. There is a lot of steam. It depicts m/m, m/f, and m/m/f sexual situations and contains graphic language. 
---
---
---
This book came at the right time…It was funny and so hot. Thru the book was some moments were the characters and the story was way to fictional or unrealistic, but for me, it was a great read. The book tells the story of three best friends, roommates, one girl and two boys.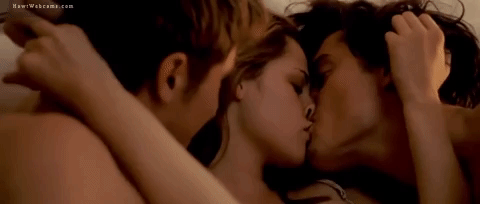 ---
Janie thinks she is happy with her actual boyfriend, they've been together over a year now, so she thinks the only way their relationship can go is further, marriage, family, and kids. Her sex life is not so good, but she thinks that is her fault, that she is a freak in the sack.
Ethan and Jake are best friends from middle school, now rugby players and roommates. Five years ago they needed a new roommate and they brought Janie along because the clicked instantly. They became best friends since. They tell each other everything. Of course, through the five years of that friendship, they were attracted to each other, but no one made a move. Their friendship was more important than anything…Till one night that changes everything…Truth or Dare?
Janie is down after her boyfriend broke up with her, and so the guys need to build her up and make her see the truth. I am going to stop right here and not going to tell you more.
---
What am I going to tell is that I wanted more. Not more hot scenes with them, no, those are plenty, I wanted some drama, maybe some suspense, something important to happen…
But…In the end, it was a great easy read and hot as the sun! 😜 
---