Check out this fantastic new release,
read Mary's Review and grab your copy today!
You don't want to miss this book!
Don't forget to enter the Giveaway!

 😀 
---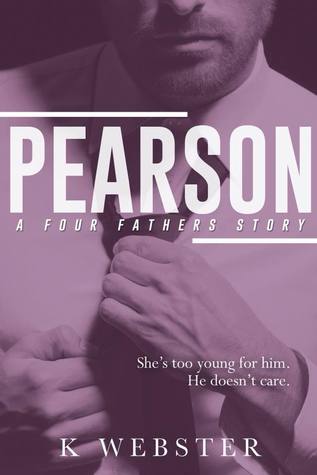 Title: Pearson
Author: K. Webster
Series: Four Fathers #3
Genre(s): Romance, Taboo
Release Date: April 16, 2018
Reviewer: ~Mary~
Rating: ✮4 Stars✮
~Synopsis~
I am selfish. Spoiled. A single father. I do what I want because I can.
One of my four sons is dating the hot, young little neighbor…Too bad it won't last long. 
When I want something, I take it—even if it means taking from my son.
My name is Eric Pearson. I am an unapologetic, egotistical, domineering man.
People may not like me, but it doesn't stop them from wanting me. 
—
Four Fathers Series by bestselling authors
J.D. Hollyfield, Dani René, K Webster, and Ker Dukey 
Four genres. Four bestselling authors. Four different stories. Four weeks in April.
One intense, sexy, thrilling ride from beginning to end! 
–These books were designed so you can read them out of order. However, they each interconnect and would be best enjoyed by reading them all!–
---
~Purchase Links~
---