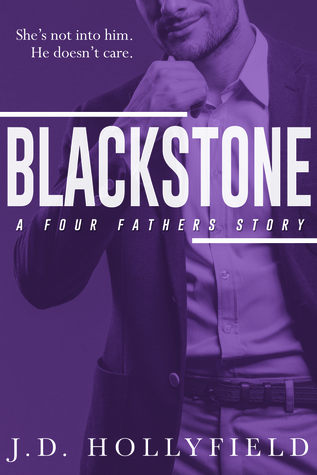 Title: Blackstone
Author: J.D. Hollyfield
Series: Four Fathers #1
Genre(s): Contemporary Romance
Release Date: April 2, 2018
Reviewer: ~Mary~
Rating: ✮4 Stars✮
~Synopsis~
I am meticulous. Structured. A single father. I obsess over things and crave control. And when a hot, feisty little woman throws a wrench in my carefully laid out plans, I lose my mind. My every thought revolves around making her bend to my will—until they become less about her doing things my way and more about just her. 
My name is Trevor Blackstone. I am an obsessive, complicated, demanding man. People may not understand me, but it doesn't stop them from wanting me.
—
Four Fathers Series by bestselling authors: J.D. Hollyfield, Dani René, K Webster, and Ker Dukey.
Four genres…Four bestselling authors… Four different stories… Four weeks in April.
One intense, sexy, thrilling ride from beginning to end! 
---
---
---
Blackstone by J.D. Hollyfield is the first book in the Four Fathers series. All books from this series can be read as a standalone, but they all interconnect.
It was a quick read but it was so funny, hot and dirty that it was worth it.
---
Trevor Blackstone is one sexy alfa male, demanding, dominant, meticulous and controlling. He is a single father, has 44 years old, he is divorced and he is a math prodigy. He doesn't take no for an answer, and everything he wants, he gets, no matter what or how. And now he wants the property next door.
Lucy made some very pore choices in her life, and now she is trying to find herself and put some direction in her life. She is so headstrong, feisty and doesn't take any bullshit from "Numbers". She is 27 years old and she is the exact opposite of Trevor. But until the end of the book, she is going to be everything he needs.
---
As I said, it was a great reading. It broke my heart for Trevor as a little child, but at the end, he gets his Happy End. I devoured this book, I truly enjoyed the storyline and characters.
A short, funny,  dirty and intense story!
---
—These books were designed so you can read them out of order. However, they all interconnect and would be best enjoyed by reading them all!—
1 – Blackstone by J.D. Hollyfield – GR: http://bit.ly/2GXCzS1 
2 – Kingston by Dani René – GR: http://bit.ly/2FMjzX1 
3 – Pearson by K Webster – GR: http://bit.ly/2FKvjcE 
4 – Wheeler by Ker Dukey – GR: http://bit.ly/2oIY1T6
---