Title: Point of Contact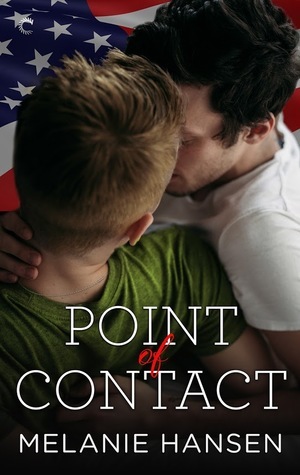 Author: Melanie Hansen
Publisher: Carina Press
Page Count: 327 pages
Genre(s): M/M, Romance
Release Date: March 26, 2018
Reviewer: ~Wendy~
Rating: ✮5 Stars✮
~Synopsis~
Only love can heal an impossibly broken heart 
There'd forever been a thread running through Trevor Estes's life—his son, Riley, strong and constant like a heartbeat. But when Riley is killed in combat, everything in Trevor's life unravels into a mess he doesn't know how to mourn.
Then Jesse Byrne, Riley's friend and platoon mate, arrives on Trevor's doorstep with a box of Riley's things. Jesse's all-too-familiar grief provides an unlikely source of comfort for Trevor: knowing he's not alone is exactly what he needs.
Trevor never imagined he'd find someone who fills his heart with hope again. As the pair celebrate Riley's memory, their unique bond deepens into something irreplaceable—and something neither man can live without.
But diving into a relationship can't be so simple. Being together means Trevor risking the last link he has to his son…leaving Jesse to wonder if he'll ever be enough, or if Trevor will always be haunted by the past.
---
---
---
I just know that when I open a book by this author,  I am gonna be wowed. Which is exactly what happened, when I opened this one. This book made my heart break into a million little pieces but also put it back together again, in the most beautiful of ways…I think I can honestly say that this book will make my top 10 of 2018…without a doubt.
---
I don't want to say too much though…I think everyone should experience this one by themselves, without any spoilers…Was it heartbreaking…yes it absolutely was and I would advise everyone to buy some bulk kleenex because you will be needing it!!
Was it worth reading it…again, yes absolutely!…This isn't just some love story, it is so much more than that. Its a book about family and war and brothers and love and loss…It's about two lost souls finding a way to comfort and heal each other. Trevor and Jesse share a very special bond and slowly…very slowly…this bond grows into so much more.
---
Like I said…this book gutted me in the most beautiful way. Even if I didn't have to catch my breath after reading this one…I wouldn't say more about it.
My advice, just take the jump into this one. You won't be sorry…I promise. 😉
Very Highly Recommended!!! 💕 
---