Check out this fantastic new release…
The Book
Playlist, read Chapter 1, an Excerpt, Wendy's  Review…
And grab your copy today!
You don't want to miss this book!
Don't forget to enter the Giveaway!

 😀
---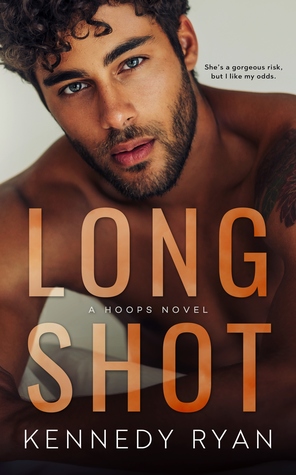 Title: Long Shot 
Author: Kennedy Ryan
Series: Hoops #1
Page Count: 306 pages
Genre(s): Romance, (A Standalone Basketball Romance)
Release Date: March 21, 2018
Reviewer: ~Wendy~
Rating: ✮4.5 Stars✮
~Synopsis~
A Standalone FORBIDDEN LOVE SET IN THE EXPLOSIVE WORLD OF THE NBA…
Think you know what it's like being a baller's girl? You don't.
My fairy tale is upside down.
A happily never after.
I kissed the prince and he turned into a fraud.
I was a fool, and his love – fool's gold.
Now there's a new player in the game, August West. 
One of the NBA's brightest stars.
Fine. Forbidden. 
He wants me. I want him.
But my past, my fraudulent prince, just won't let me go.
*Author's Note:  There are aspects of this story that may be sensitive for some readers.
---
"This story was brutal truth wrapped in hope, courage and unflinching love. It's a must-read. It's a STOP WHAT YOU'RE DOING AND READ THIS NOW kind of book. Don't hold your breath, this story will steal it from you." – J. Sterling, NYT Bestselling Author
Read the ENTIRE first chapter here

➦

 Chapter 1 
---
~Purchase Links~
~Giveaway~
---