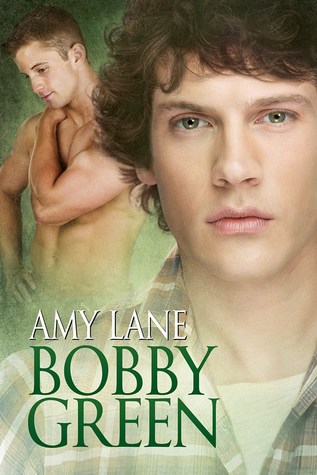 Title: Bobby Green
Author: Johnnies #5
Series: Amy Lane
Publisher: Dreamspinner Press
Page Count: 350 pages
Genre(s): M/M, Romance
Release Date: February 6, 2018
Reviewer: ~Wendy~
Rating: ✮4.5 Stars✮
~Synopsis~
Vern Roberts couldn't wait to turn eighteen and get the hell out of Dogpatch, California. But city living is expensive, and he's damned desperate when Dex from Johnnies spots him bussing tables. 
As "Bobby," he's a natural at gay porn. Soon he's surrounded by hot guys and sex for the taking, but it's not just his girlfriend back in Dogpatch—or her blackmailing brother—that keeps him from taking it. It's the sweet guy who held the lights for his first solo scene, who showed him decency, kindness, and a smile.
Reg Williams likes to think he's too stupid to realize what a shitty hand life dealt him, but Bobby knows better. What Reg lacks in family, opportunity, education, and money, he makes up for in heart. One fumbling step at a time, they connect, not just in their hearts but in their bodies, where sex that's not on camera, casual, or meaningless, becomes the most important thing in the world.
But Reg is hampered by an inescapable family burden, and he and Bobby will never fly unless he can find a way to manage it. Can he break the painful link to his unrealized childhood and grow into the love Bobby wants to give?
---
---
I couldn't believe it when I found out that one of my favorite series…"Johnnies"… was getting another book! Two books from that series are on my "deserves 6 stars" shelve, "Chase in Shadow" and "Dex in Blue" so you can imagine my excitement!!
---
Turns out my excitement was well deserved. I loved this one, though I have to admit, that it did not top my two favorites. Before I go further into my review, I would like to advise everyone to start this series with book 1. They all take place at the same time…either simultaneously or shortly after the other. I think reading these books as stand-alone's can get quite confusing, because of all the recurring characters, that play a big part. Just read them all! 😁 
Those of you who have already read the books in this series might remember Bobby, though I am gonna be honest here, and admit, that I had no freaking clue who he was.🤔 After a while, it all came back to me…must be my age.😜
---
Bobby, whose real name is actually Vern, can't wait to get the hell out of his hometown. He has a girlfriend he isn't really into, and a girlfriend's brother, who is blackmailing him into blowjobs…he is really into. He needs to get out, make some money and come back to get his mom out too…Getting out is easy but finding a good paying job…not so much. Thankfully Bobby has a very special asset, which catches Dex and Kane's eyes.
Before you know it, this 18 year old country boy, is doing auditions at "Johnnies"…This is where he meets Reg. Now Reg is a veteran. He has been with Johnnies for 10 years already. He is not the sharpest tool in the shed, and he is convinced, that having sex on camera (or for fun) is all he is really good at…Reg. may not be really smart, but he does have the kindest heart, which is why all the Johnnies boys love him so much. Bobby is finding that out for himself the closer he and Reg get.
---
There is only one problem and her name is Veronica. Veronica is Reg's older sister and she suffers from paranoid schizophrenia. Now I try to NEVER EVER judge people with a mental illness because it all hits a bit close to home for me but in this case…Veronica annoyed the hell out of me!!!
Which in turn made me annoyed with Reg, because I just wanted him to DO SOMETHING!!…Thankfully Bobby isn't about to just give up on Reg, so these two become closer and closer and finally admit that they aren't as "straight" as they thought.
---
I really enjoyed this awesome addition to a wonderful series! And just in case you're wondering…Dex does play a fairly big part in this one. 😉
I highly recommend it to those that don't mind a bit of angst! ❤️ 
---