Midnight Blue, an all-new sexy standalone from L.J. Shen
is available NOW!
Check out this fantastic new release, read the Excerpt, Wendy's Review
and grab your copy today.
You don't want to miss this book! 😜
---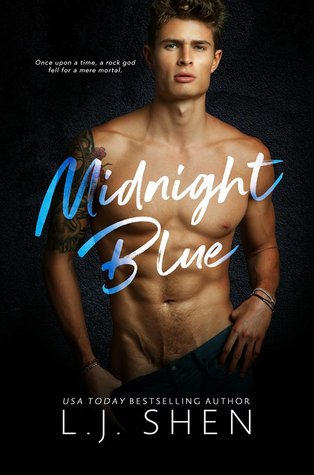 Title: Midnight Blue
Author: L.J. Shen
Page Count: 359 pages
Genre(s): Contemporary Romance
Release Date: January 16, 2018
Reviewer: ~Wendy~
Rating: 4.5 Stars out of 5
~Synopsis~
From bestselling author, L.J. Shen comes a new, standalone, contemporary romance.
It should have been easy.
I needed the money. He needed a babysitter to keep him from snorting himself to death.
I was cherry-picked especially for him. Responsible. Optimistic. Warm. Innocent.
The worst part is that I should have known better.
Alex Winslow. British rock star. Serial heartbreaker. Casanova with whiskey eyes.
"Don't get near the devil in a leather jacket. He'll chew you up and spit you out."
Guess what? I didn't listen.
I signed the contract.
World tour. Three months. Four Continents. One hundred shows.
My name is Indigo Bellamy, and I sold my soul to a tattooed god.
Problem was, my soul wasn't enough for Alex Winslow. He ended up taking my body, too.
Then he took my heart.
Then he took my all.
---
~Read Review~

~Purchase Links~
---
~Excerpt~
Excerpt from Midnight Blue
Copyright © 2018
~*~
Nat's words came back and haunted me like a bad haircut from the eighties. An irrational need to check the goods took over me. It wasn't like he minded. According to the rumors, his dick had seen more cameras than Kendall Jenner. Slowly—so painfully slowly—my eyes drifted down his sinewy body. I just wanted to see what all the fuss was about. Whatever I had in mind, though, didn't come close to the real thing. Thick, long but not atrocious. With thin veins running through its length.
"Nice view?" he groaned, tucking his junk back into his briefs. His profile was glorious. Strong jaw, pouty lips, eyes like sex…
My eyes snapped up when I realized he was talking to me. "I wasn't…"
"Looking? Yes, you were. Next time take a picture. It lasts longer." He rolled his zipper upward and flushed the toilet with the toe of his boot. He turned around and squirted soap into his palm, washing his hands almost violently—rubbing between each finger and scratching his knuckles like he wanted to shed his own skin. When he was done, he looked around for a towel.
I cleared my throat, scrambling to regain my wits. "Longer than the glimpse or longer than your performance?"
Casually—so unbearably casually—he wiped his wet hands over my purple dress. I gasped, moving sideways. It looked like he was about to open the door and get out, but before I had the chance to yell at him for using me as a human towel, he slammed me against the wall, bracing both his arms above my head and pinning me to my spot. I let out a shriek of surprise at the sudden proximity.
Alex Winslow is touching me. Willingly, my surprisingly pitiful brain squealed.
Heat rolled off his body, making my back arch and my breath catch in my throat.
"Let's make one thing clear—I could fuck you to a point of numbness without even breaking a sweat if I wanted to. Now, careful, New Girl. If you don't keep your distance from me, I think I just might."
~*~
.
---
Continue reading "~Blog Tour~Midnight Blue by L.J. Shen~Review & Excerpt~" →