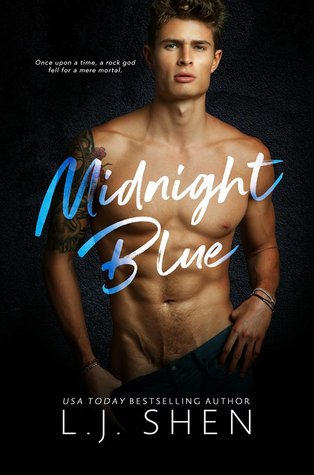 Title: Midnight Blue
Author: L.J. Shen
Page Count: 359 pages
Genre(s): Contemporary Romance
Release Date: January 16, 2018
Reviewer: ~Wendy~
Rating: 4.5 Stars out of 5
~Synopsis~
From bestselling author, L.J. Shen comes a new, standalone, contemporary romance. 
It should have been easy.
I needed the money. He needed a babysitter to keep him from snorting himself to death.
I was cherry-picked especially for him. Responsible. Optimistic. Warm. Innocent.
The worst part is that I should have known better.
Alex Winslow. British rock star. Serial heartbreaker. Casanova with whiskey eyes.
"Don't get near the devil in a leather jacket. He'll chew you up and spit you out."
Guess what? I didn't listen.
I signed the contract.
World tour. Three months. Four Continents. One hundred shows.
My name is Indigo Bellamy, and I sold my soul to a tattooed god.
Problem was, my soul wasn't enough for Alex Winslow. He ended up taking my body, too.
Then he took my heart.
Then he took my all.
---
---
---
It is well known, that this author knows how to write some delicious asshole alpha males. Her series "Sinners of Saint" series is a perfect example. I loved that series! I am a big fan of redeemable assholes, so when I heard she was gonna write about a rockstar…I was all over it!!
---
This one is about Alex Winslow and Indigo (Indie) Bellamy.
Alex' career has been going downhill lately, because of his public behavior. He is just as out of control as his drug habit is… So his agent and publisher send him off to rehab and hire a "nanny" for him when he gets back.
Indie really needs a job. Her family needs her to take care of them. Her brother is a drunk who has given up on life and her sister in law is already doing all she can. So it's up to her to make sure her nephew gets everything he needs. Being a nanny for a spoiled rock star throwing temper tantrums is not really a dream job, but it pays very well and that's the magic word for Indie…money…
---
How hard can it be anyway?! She just needs to make sure he stays away from drugs and doesn't go off the rail in any possible way…But Alex…he doesn't want Indie to stay, so he does his very best to make her quit. When she doesn't run away crying…he promises to break her. And he does…bit by little bit.
"Because when Alex was hurting, he wanted the entire world to hurt with him." 
But she can't stay away from him…The attraction and chemistry are too strong. She is drawn to him like a moth to a flame and even though she knows she's gonna get burned…she can't resist him.
"We needed each other. Now. On this tour. Like air, and oxygen, and the pulse beneath our flesh." 
I totally understood where Indie was coming from. I don't think I would have been able to resist that broody asshole either…Especially when he used his dirty talking mouth! 
"I'm going to be so balls deep inside you, I'll be able to tickle your lungs." 
These two become closer every day, physically and mentally. Indie even becomes the muse for his next album. But things can't stay the way they are…Mistakes have to be made…secrets have to come out and groveling need to be done. 😛
---
I absolutely loved this book…Alex has definitely earned a spot in my top 5 of favorite alpha a-holes!!!
This was an awesome "opposites attract" story. It was filled with so much…It was angsty, sweet, emotional, steamy, frustrating and beautiful…I can't wait to see what this author has in store for us next. 😉
Highly recommended! 💗 
---