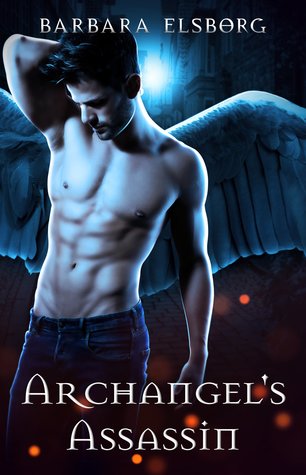 Title: Archangel's Assassin
Author: Barbara Elsborg
Page Count: 275 pages
Genre(s): M/M, Romance, Paranormal
Release Date: November 28, 2017
Reviewer: ~Wendy~
Rating: 4.5 Stars out of 5
~Synopsis~
He wants to forget 
West is an archangel's assassin delivering justice to supernatural creatures who break the law. Not a straightforward job because he also has to absorb the memories of those he kills. Even worse, West is breaking the law himself in an attempt to free his brother from hell. If he doesn't succeed before his archangel boss finds out, West will be joining his sibling. 
He wants to remember 
A young guy wakes in a London park with his memories gone. He has no idea who he is, or where he comes from. A bracelet engraved with the single word Tao is the only clue to his identity. With no sign of his memory returning, he drifts into a life on the streets. Begging is his only way to survive. 
Two worlds collide 
When Tao returns West's stolen wallet, West offers to buy him a coffee. Tao delights in the chance to sit down with a good-looking guy until his instincts tell him to run away. Fast. West is surprised when Tao flees, considering how much he'd been mentally urging him to stay. Is he losing his touch or is Tao more than a scruffy young man down on his luck? 
Only one way to find out. 
---
---
---
No one does Angels, Demons, Vampires and Faeries like Barbara Elsborg does!
I am a huge fan of her PNR books and "Bloodline" and "Dirty Angel" are definitely two of my all time favorites. So, of course, I was jumping for joy, when I found out she was publishing another PNR.
A couple of pages into this book and I was no longer jumping for joy, but crying big fat tears.
I should have known, because even though this author has the ability to make me laugh my ass off….she also always makes me cry my eyes out !! One minute your laughing and thinking how much fun the characters are, and the next you are overwhelmed with emotions!
I love how she does that, which is one of the reasons I am such a big fan. 😉
---
This book is about West, who is an archangel's assassin to none other than Raphael. I did a little fangirl dance when I got to that part since I am a huge sucker for Archangels. West's job is to assassinate the supernaturals that break the law, but only when Raphael orders him to do so. This is where West is skewing up his job because he has been playing executor without Raphael's consent. There is a reason for him doing so though…and that reason involves trying to save his brother.
---
Tao, wakes up in a park one day, without any memory whatsoever.
He doesn't know who he is is or where he came from. He has a bracelet with the name Tao, but that's all he has. So Tao does what he has to, to survive. He starts begging…
Tao still hopes his memory will come back to him, but the more days go by…the more he loses hope. That is until he saves West from being robbed.For some reason, Tao feels this extreme pull towards West, and he just knows that he needs to be with him…even when West is doing his "biggest asshole" impression.
West is very attracted to Tao, but he also knows, that them being together is not an option. For one…West isn't even alive! Tao doesn't know West is an angel and to make things worse, Tao doesn't even know who he is himself! Some sexy-time is all he can offer Tao…And they sure have some very HOT sexytimes!!!
 "Fuck me against the glass while I look at the stars". 
---
But after spending more and more time together, West can't just let Tao go…What is it about Tao, that makes West feel so good inside…One thing is becoming very clear though it doesn't seem that Tao is quite human himself…
These two start falling deeper and deeper for each other, but some things…are just not meant to be…
---
I absolutely loved this one! It was just as good as I expected it to be!
I laughed, I cried…I fanned myself during the sexy times…and I closed the book with a huge smile on my face!There is only one thing left for me to do, and that is BEG Barbara Elsborg to write another book with an Archangel as MC…or a fallen one, like Dante (I loved that guy!) 😛
I highly recommend this one to everyone who loves PNR books, and I hope there will be many more to come!!
---