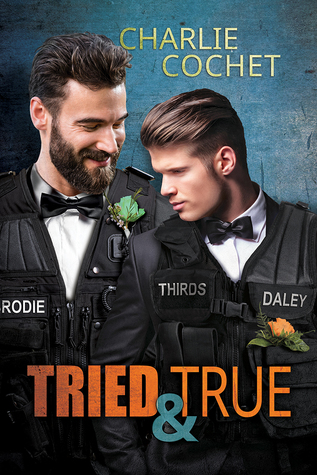 Title: Tried & True
Author: Charlie Cochet
Series: THIRDS #10
Publisher: Dreamspinner Press
Page Count: 254 pages
Genre(s): M/M Romance, Mystery/Suspense, Fantasy, Shapeshifters
Release Date: November 24, 2017
Reviewer: ~Wendy~
Rating: 4.5 Stars out of 5
~Synopsis~
Sequel to Darkest Hour Before Dawn
When THIRDS agent Dexter J. Daley met Team Leader Sloane Brodie, he couldn't have imagined how slamming into his new partner—literally—would shake both their worlds. Now four years later, they've faced dangers, fought battles both personal and professional… and fallen deeply in love. Now their big moment is finally in sight, and they're ready to stand up together and make it official. Unfortunately, as the countdown to their big day begins, an enemy declares war on the THIRDS…
With their family in danger, Dex and Sloane are put to the test on how far into darkness they'll walk to save those they love. As secrets are unearthed, a deadly betrayal is revealed, and Dex and Sloane must call on their Destructive Delta family for one last hurrah to put an end to the secret organization responsible for so much devastation.
Dex and Sloane will have plenty of bullets to dodge on the way to the altar, but with happiness within their grasp, they are determined to get there come hell or high water…
---
---
---
I absolutely loved every single book in this series, which is quite the feat, since there are 10 already!! As far as I am concerned, I could do with 10 more. 😛
I have gotten to know all the characters in this series so well…they feel like family to me now! A family, that I have come to love a whole lot!
Now Sloane and Dex…they will always have a spot in on my "All Time Favorite Couples" list. They earned it fair and square…They have been through so much together, and they are still standing strong…
And we have finally gotten to the point of their wedding!
---
Of course, this is Dex and these are the "Thirds"… so not everything will go as planned and they will all have a major fight on their hands!!!
I spend half this book sitting on the edge of my seat…biting my nails off!
But…this is the "Thirds" we are talking about. They are a family, they stick together no matter what, and do what they should do when trouble arrives. I love them all so much! I should not have worried so much. 😉
---
This book really had everything I look for in a book…
There was plenty of love, steam, action, and fun…I mean Dex is in it…of course, there was FUN!!!…I am very curious to see, what Charlie Cochet has in store for us next. I just hope there will be much much more about these great characters I have come to know and love. ❤
I highly recommend this series to everyone!!!
Just make sure you start with book 1 in the  "Third Series"  because these books can not be read as standalone's. 😉
---