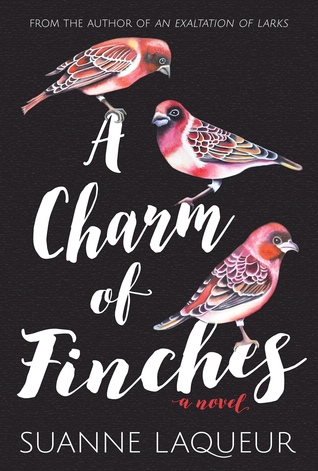 Title: A Charm of Finches
Author: Suanne Laqueur
Series: Venery #2
Page Count: 582 pages
Genre(s): M/M, Romance
Release Date: November 1, 2017
Guest Reviewer: ~Judith~
Rating: 4.5 Stars out of 5
~Synopsis~
"I swear. Give me one more chance and I will make the most of it."
Ex-escort Javier Landes is asking for his third chance at love. And the third time is the charm. He meets an art therapist named Steffen Finch and what starts as casual deepens into a passionate relationship—everything Jav has ever wanted, and everything he fears losing. 
Stef's business card reads Curator & Sailor. His creativity and insightful nature have made him into a talented therapist, the one to call for tough cases. His professional success can't conceal a deep need to connect with someone, but Javier Landes is the last person Stef expected.
Geronimo "Geno" Caan is Stef's most challenging case. To cope with his ordeal, he's allowed an alter-ego called Mos to make decisions, and now lives a double life within a web of lies. Under Stef's navigation, Geno uses art to express what Mos forbids to be spoken aloud. But as Geno's attachment to Stef gradually extends to Jav, the boundaries between professional and personal begin to blur.
Over the course of a year, Jav, Stef and Geno form an unexpected and unconventional triangle, revealing how men make love in times of war and how love is a great wisdom made up of small understandings. The long-awaited second book of the Venery series, A Charm of Finches is an epic tale of survival and secrets guaranteed to make you think and feel and remember.
---
---
---
Another powerful and moving story from this highly talented Author.
I found this a lot darker than book one and I went through a range of emotions reading it-definitely not always pretty but a story told so well.
This subject matter is harrowing at times and I really commend the Author for not portraying some events in graphic detail and yet still leaving the reader in no doubt about what has happened.Is it better for a reader to visualize events in their own minds? For me, it definitely was and I found it all the more impactful.
The story picks up from book one, that's not to say this can't be a standalone, as events and background stories regarding the characters are well explained and introduced into this story without too much repetition…However…
I would recommend reading book one to fully appreciate the story here and especially Jav.
---
Having decided to retire from escorting Jav finds himself at a kind of crossroad here. It's time for him to find love…

 "I swear.Give me one more chance and I will make the most of it." 
I thought I couldn't love anyone more than Jav but Stef definitely comes a close second…
As a Therapist working with some very distressing cases, his work is demanding and draining.He seems to be missing something from his life but I don't think he even knows what it is.Stef is bisexual, Jav maybe but I really think it's not necessarily about a label and more about who they fall in love with.
---
In a way, this is two stories in one book.Stories and characters live that intertwine. Alongside Jav and Stef's story, you have Geno…Geno is a twin. Inseparable from his brother from birth and deeply connected…
Until they weren't…until a terrible betrayal would change Geno's life forever.
My heart broke for Geno and if ever I was rooting for happiness for a character it was for him. The 'relationship' between Jav, Stef, and Geno was complex at times but you never lose sight of the strong connection that forms between them as the book progresses.
---
A big shout out(again) for the research the Author must have done here, both Historically and Emotionally as there are very emotive issues in this story.
I've read these two books virtually back to back… and I'm so impressed with her writing and storytelling…
Highly Recommended! ❤
---