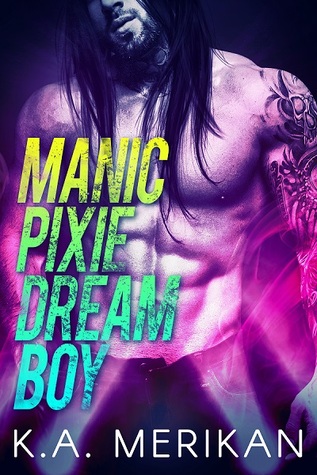 Title: Manic Pixie Dream Boy
Author: K.A. Merikan
Series: The Underdogs #1
Publisher: Acerbi & Villani Ltd.
Page Count: 143 pages
Genre(s): M/M, Rocker Romance
Release Date: September 10, 2017
Reviewer: ~Vir~
Rating: 5 Stars out of 5
~Synopsis~
-You can't hide the cracks under the spotlight-
Dusk. Leader of The Underdogs. Destined for greatness. Lives in the now.
Abe. AKA Lolly. Iridescent. Unicorn.
All Dusk wants out of life is for his band to become world famous. He also wants to have a lot of fun along the way. And to get his rocks off. When he wants something, he goes for it, consequences be damned.
So when he sees a gorgeous pink-haired guy who is the human equivalent of tattooed cotton candy, he can't help but have a taste. But it's when Lolly ends up on their tour bus that Dusk knows their meeting was destiny. 
Abe is the kind of guy who goes with the flow. He was hitchhiking anyway, so why not spend the week with a hot piece of rocker beefcake, getting smothered by his sexy long hair? And why not play the part of the supportive cutie while he's at it? It's not like he'd be sticking around for long anyway.
All plans hit a wall when photos of Abe and Dusk emerge online, suddenly pushing the band into the spotlight. To take advantage of the sudden popularity, the band offers Abe money for staying. 
Which means money for being in a fake relationship with Dusk.
Which isn't even fake.
Or is it?
---
---
---
Every time I read the blurb of a KA Merikan's book it talks to me.
I feel attracted to their synopsis like a moth to the light, so I keep adding them to my shelves. But until now, until Manic Pixie Dream Boy I'd never tried this duo before. This time I've gone beyond the interesting blurb and to the whole experience and, let me tell you, what an incredible experience this one has been!
My first book by this authors and, for sure, not my last. I'm kinda obsessed now and I guess this is the beginning of a huge fangirling thing so, Helloo Merikans! You have a new fan in me.
Not a creepy one, promise, just a fan with a healthy obsession…or not…
---
So now, about the book:
This is the story of Dusk and Abe. Two guys who met in a stop on their way to LA.
They crossed paths (swords too, figuratively speaking) and start a new journey together. This is the story of The Underdogs, a rock band that makes my heart sing, and my panties melt. This is the story of their guitar and lead singer-Dusk- who wants to shine in a competitive and difficult world and a shiny man-Abe aka Lolly- who doesn't belong anywhere and who is always waiting for an upcoming storm.
Manic Pixie Dream Boy starts directly into the action and with the action I mean taking care of the business, doing the dirty, a filthy encounter in a gas station restroom…That action.
---
Narrated in dual POV, in a simple and absorbing way, this book caught me since the first page.
It starts hot and steamy, it's true, and also funny and fast paced which is always a plus, but the real hook for me came from the characters themselves and the depth it started to show in them over time and pages. The sweetness and insecurities behind all the layers.
One of them is openly gay, the other bisexual and not out…One all pink (literally) and the other all dark in the outside (long hair, rock star looks and owning a name like Dusk) but so sweet and lovely on the inside…Both so scorching hot together and so gorgeous…I couldn't find any visuals to give them the justice they deserve. My mind has a perfect picture of these two though, and that's enough.
I really loved all the Underdogs members.
Dawn's shyness and sensibility, Mage's kindness and conscience, and Sid's blatant and grumpy ways. They are a bunch of misfits trying to success and, at the same time, trying to hide who they are, knowing a spotlight is a tricky place…The style is fresh and light. The characters are young (all of them in their twenties) and the plot and interactions according to their age and personalities.
---
The book is extremely easy to read, super entertaining and very, very sexy.
I couldn't put it down. And I have to confess I cried a couple of times from 68% till the end. Not ugly crying, just my hormones talking. And I loved it. I love to feel this kind of emotions…It is true that I have a soft spot for rock stars so, to me, the setting was a winner itself, even if the music is not the main theme. There's no talking about idols or influences. There's no detailed gigs, songs or music talk among the band members. Non of this. But it worked for me as it was and the characters are very well sketched and very likable. Lovable. All of them.
I want book 2 right now. Sid? Give me. Dawn and… omg Mage? In the same book, maybe? Could they be an item, please? Give them to me. I can't wait!
I've been happy clapping since the beginning like the not-creepy-at-all fan I am.
So… thank you KA Merikan, it has been a hell of a ride. Sweet and hot.
All the stars!…I loved it!…Highly recommend!
---