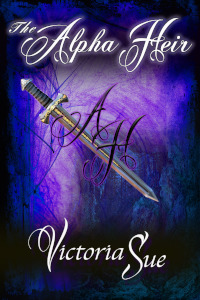 Title: The Alpha Heir
Author: Victoria Sue
Series: Kingdom of Askara #2
Page Count: 306 pages
Release Date: September 4, 2017
Genre(s): M/M Romance, Fantasy/Shifters
Reviewer: ~Wendy~
Rating: 4.5 Stars out of 5
~Synopsis~
Man and wolf. Sworn enemies in the battle for Askara. Can hate and betrayal ever lead to love?
Caleb Harken has spent six years wrongfully imprisoned for his father's treachery. Tortured and reviled by the very wolf pack he should have been leading as Alpha, he is not surprised to learn he's finally to meet his death at the hands of the human rebel leader, Taegan Callan.
Taegan gave up his dreams of a life-mate and a family after seeing too many humans butchered at the hands of the wolves—even if Caleb doesn't seem to be the bloodthirsty savage he expects, and even if he starts to long for a different kind of future with the wolf.
Can Caleb become the Alpha he was always meant to be and lead his pack, or will he finally realize that winning his freedom means nothing when he has already lost his heart?
---
---
---
I absolutely loved book 1, The Alpha King in this series. I am normally not a big fan of mpreg, but I made an exception for that one since it was so nicely done. 😉
Of course, when I found out that there was gonna be the second book in this series, I jumped on it.
Even though this book is about a different couple than book 1, I would still advise reading the first book before starting this one. This mostly because of the world building that takes place in that one, but also because it's an awesome book!!
---
This book is centered around Caleb and Teagan.
Caleb is a wolf who can't shift. He is has been imprisoned by his own pack and severely abused for many years. He has come to the point where he has given up and is done…
During a ritual fight, he is taken prisoner by Taegan. He is the leader of a human group of rebels Taegan figures he can use Caleb as leverage. It doesn't take long for him to find out though, that Caleb is unlike any other wolf he has ever come across.For some reason, Caleb seems to trust Teagan, which triggers all of Teagans protective instincts.
I promised to keep my review as spoiler free as possible, so this is all your gonna get out of me about the storyline.
---
I can, however, tell you how much I loved this book…which is a lot. 😛 
There is a lot of hurt/comfort in this one, which is always a big plus for me. Though the steam was heavier in book 1, it still enough to keep me happy. I think this book centers a bit more on the comfort side. I really enjoyed watching their relationship build and even though I loved book 1, I loved this one just a tad more.
Now I don't know what kind of magic this author uses, but so far I haven't found a book that I didn't love.
It was wonderfully written and like any other book I have read by this author, I was pulled right in and I didn't stop until the end.I also loved getting a snippet on how Luca was doing.
I hope there will be many more books in this series so I can read them all. 😀
---