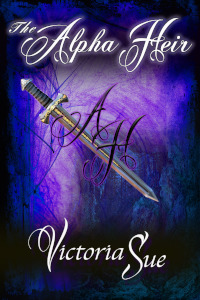 Title: The Alpha Heir
Author: Victoria Sue
Series: Kingdom of Askara #2
Page Count: 306 pages
Release Date: September 4, 2017
Genre(s): M/M Romance, Fantasy/Shifters
Reviewer: ~Wendy~
Rating: 4.5 Stars out of 5
~Synopsis~
Man and wolf. Sworn enemies in the battle for Askara. Can hate and betrayal ever lead to love?
Caleb Harken has spent six years wrongfully imprisoned for his father's treachery. Tortured and reviled by the very wolf pack he should have been leading as Alpha, he is not surprised to learn he's finally to meet his death at the hands of the human rebel leader, Taegan Callan.
Taegan gave up his dreams of a life-mate and a family after seeing too many humans butchered at the hands of the wolves—even if Caleb doesn't seem to be the bloodthirsty savage he expects, and even if he starts to long for a different kind of future with the wolf.
Can Caleb become the Alpha he was always meant to be and lead his pack, or will he finally realize that winning his freedom means nothing when he has already lost his heart?
---
---
---
I absolutely loved book 1, The Alpha King in this series. I am normally not a big fan of mpreg, but I made an exception for that one since it was so nicely done. 😉
Of course, when I found out that there was gonna be the second book in this series, I jumped on it.
Even though this book is about a different couple than book 1, I would still advise reading the first book before starting this one. This mostly because of the world building that takes place in that one, but also because it's an awesome book!!
Continue reading "Release Day Review~The Alpha Heir (Kingdom of Askara #2) by Victoria Sue~" →