Title: Chasing Destiny
Author: Megan Erickson 
Series: Silver Tip Pack #2
Page Count: 224 pages
Release Date: July 21, 2017
Genre(s): M/M, Romance,Paranormal, Werewolves & Shifters
Reviewer: ~Wendy~
Rating: 5 Stars out of 5
~Synopsis~
Some live on memories…
Almost dying during a pack uprising has a way of shaking things up. I'm no longer Mr. Laid Back now that there's an itch under my skin I can't scratch.
On a volunteer mission that goes beyond the walls of our compound, we enter the territory of a pack long thought dead, and find ourselves on the business end of their spears.
What I'm not prepared for is what I find within their walls—The one shifter I never thought I'd see alive, the one I'd mourned twice, the one I'd always loved. He is alive, and if I have anything to do with it, he'll stay that way. But he's got secrets, and exposing them could lead us to an enemy worse than the bloodthirsty undead shifters wanting to kill us all…
---

*****5 Stars*****

---
Wow…this was really good, I enjoyed the hell out of it.
I have been curious about Bay and his story, ever since he was introduced in book 1. He has been one of my favorites since the beginning…but I have to say that I have a new favorite right now.

He goes by the name Nash. 😉
I would advise everyone to not read this book as a standalone, but to start with book 1. I think starting with book 1 will give you much more enjoyment of the story. 😉
---
Bay is the brother of the Silver Tip Pack Alpha, Dare.
I have always liked him a lot and I thought he was funny and the more relaxed one of the two brothers. But Bay isn't feeling so right at all. Losing your childhood friend and potential lover not once, but twice, tends to leave some emotional scars. Not the mention everything else that happened in book 1.
Bay needs a time out and he is itching to get away…he feels something pulling at him, something seems to be calling for him. So when there are rumors about the survival of Reese's (book 1) old pack, Bay sets out to investigate with two other pack mates.
Never in a million years, would he have suspected to come across his childhood friend Nash…
Who seems to have found refuge with the Whitethroat Pack.
This Nash isn't the same Nash he always knew though. This Nash seems not only physically broken, but mentally as well.
---
For 15 years Nash hasn't been living but surviving…
But Bay isn't ready to give up on him…or on them. He is so relieved to get another chance with Nash, that he will fight tooth and nail to make Nash happy again and to get him back with his pack where he belongs.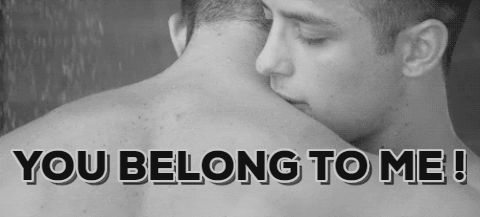 Nash, however, doesn't think he deserved a place within his old pack. He has some secrets he's been keeping and he fears that Dare will kick him out once he finds out and that Bay will want nothing more to do with him.
This doesn't prevent him from getting closer to Bay though…because he just can't stay away from Bay and his intoxicating scent…Damn these two were HOT together.
This book is pretty high on the steamy side with a nice side of "dirty" thrown in. 😛
"Fuck if you could see yourself" "Sucking for all your worth, begging for my dick, for me to fill you up. You need me in your hole, don't you? You need my come more than your next breath."
---
I totally understood where Nash was coming. Slowly he starts revealing everything that has happened to him. He shouldn't have worried about Bay though…The man was so loyal and so in love with Nash!!
"You're the destiny I've been chasing all my life Nash"
I absolutely loved this one…even more than I did book 1. It was heartbreaking, sweet, HOT, and it has the right amount of suspense. I really enjoy this series and I hope there will be many more books to come…
I myself am hoping for Vaughns book…I would like to see him hooking up with the feisty alpha of the Whitethroat Pack. 😛
---
---