Title: Who We Truly Are
Author: Victoria Sue
Series: Enhanced #2
Publisher: Dreamspinner Press
Page Count: 226 pages
Release Date: July 14, 2017
Genre(s): M/M, Romance, Paranormal, Science Fiction/Military
Reviewer: ~Simone~
Rating: 4.5 Stars up to 5
~Synopsis~
Talon's deadly abilities are spiraling out of control. Desperate to keep Finn safe, Talon struggles to protect the man he loves with all his heart and not become the greatest risk to Finn's life. 
Finn has no choice but to offer himself as bait for the evil forces kidnapping enhanced children, facing danger he is untrained and unprepared for, and he will have to do it alone. 
Does Talon have one last fight in him? Will he slay everyone who wants to destroy Finn and the team, or will he finally discover that to defeat their enemy and the ultimate threat, the biggest battle he has to face is one with himself?
---

*****4.5 Stars up to 5*****
---
This series keeps its promise!!!
Imagine my fist bump when I discovered that Who We Truly Are picks up right where Five Minutes Longer left us. Not only plotwise, but also in being as amazing as the first book.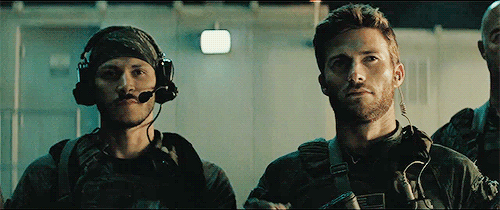 Okay, okay, it was more of an excited squee – umm, internally of course – than anything else, but who wants to quibble over details… 😉
It's no secret that I had a book crush on Five Minutes Longer and I can wholeheartedly fess up that the crush only intensified. I'm madly in love with Talon and Finn and declared them my favorite couple of the moment when I was asked about it in a Facebook group, just in case you still have any doubts.
Nevertheless, this book took me by surprise. It was not the adrenaline-sparked rollercoaster ride that was book #1 which does not mean it won't keep you on the edge of your seat sometimes. A lot of things happen again this time around, but most of them are more… subtle. Who We Truly Are concentrates more on the romance between Talon and Finn. You would almost think after what happened last time both men would be safe and sound – not to say happy – in their relationship, but both Talon and Finn still struggle with deeply ingrained self-doubts and shy away from admitting to their feelings, much less say them out loud.
---
More enhanced children go missing and Finn is -due to his boyish looks- the number one candidate to be sent undercover into a foster home to investigate their disappearance. After the incident at the end of the first book (nope, for those who don't know the book yet, I won't tell you what exactly happened because that would spoil the whole fun, wouldn't it?) said mission sets Talon's teeth on edge and his protectiveness towards Finn into overdrive…
"Sometimes Talon wished he'd never met Finn. Sometimes he just wanted to run away and hide him to keep him safe."
Talon's inner struggle threatens to not only affect their teamwork but also to screw up their relationship.
"Trust me," Finn said gently and raised Talon's chin with two small fingers. "I don't just mean with the job," Finn added as if Talon didn't know. As if Talon didn't understand Finn was asking for more. For him. All of Talon, and especially for Talon's heart."
---
But there is more to it than that. Although it becomes more and more apparent that there evidently might be a possible explanation for what triggers the abilities of the Enhanced, it is still uncharted territory and when Talon's abilities seem to evolve, he lives in constant fear of hurting Finn. When everything is in danger of spiraling out of control…
… Finn has to give his all to save them both. But Finn would not be Finn if he would not commit himself with heart and soul to the cause and his feelings.
"Miss me?" Resentment flared at the stupid question, and Finn opened his mouth to give Talon a comeback, but Talon's eyes caught Finn's own, and Finn saw. Saw all the doubt, worry, fear that had prompted the comment. All the things in him were reflected in Talon's gaze. He hadn't been teasing or mocking. "Always." Finn put every second of longing, lust, and conviction he could into the one word. He didn't need the love in there. Talon could see in his eyes what was in his heart. It wasn't just an answer. It was a promise."
---
I did not expect the range of feelings I would be going through. Feelings like rage over the still prevailing prejudices against everything and everyone who falls short of the so-called "standard". Who is different. And although this story is fiction, it is a reminder of the narrow-mindedness of people in the world we are living in at the moment what makes it even more real. Sissy-me even cried at some point because the fate of the enhanced children nearly broke my heart. 
The back and forth between Talon and Finn almost floored me. The alternation between hot and tender moments, but also the inner conflict on both sides that burst out into full-blown crises sometimes, put me through the wringer and wrecked my secret stash of chocolate. I took a deep – a very deep – breath and longed for a relaxing massage when both men got their well-deserved HEA.
"No one has ever had that faith in me. Ever… And that's when I knew. That's when I knew I'd be a fool to ever let you go." Tears glinted in Talon's eyes. "Never again. I am never letting you go."
---
We also get a lot of team dynamics and more background info about the other team members in this book and I cannot wait to read more about Gael, whose story is next. After the team more or less accomplished the "test phase" with Finn as a guinea pig of some sorts, the team is growing and now it will be Gael who is assigned a partner and I can already virtually see the sparks that will fly between him and Jake.
Highly recommended!!!
---
---