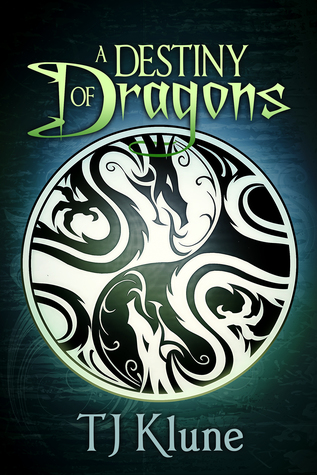 Title: A Destiny of Dragons
Author:  TJ Klune 
Series: Tales From Verania #2
Publisher: Dreamspinner Press
Page Count: 400 pages
Release Date: June 30, 2017
Genre(s): M/M, Romance, Fantasy
Reviewer: ~Wendy~
Rating: ✮5 Stars✮
~Synopsis~
Once upon a time, the wizard's apprentice Sam of Wilds got his happily ever after in the arms of his cornerstone, Knight Commander Ryan Foxheart. A year has passed, and while Sam's been captured five or six more times since then, things are pretty great. His parents are happy, Gary and Tiggy still eat sass for breakfast, Randall is somehow alive despite being older than the gods, the King rules with a gentle hand, Kevin the dragon is as gross as ever, Morgan sighs a lot, Ryan continues to be dashing and immaculate, and Sam is close to convincing Prince Justin they will be best friends forever.
Life is good. Until it's not.
Because Vadoma, the leader of the Gypsy clan and Sam's grandmother, has come to the City of Lockes with a dire prophecy written in the stars: a man of shadows is rising and will consume the world unless Sam faces his destiny and gathers the five dragons of Verania at his side.
And she brings along her second-in-command, a man named Ruv.
Ruv, who Vadoma says is Sam's true cornerstone.
–The first book in the DESTINY FUCK YEAH! Trilogy (because sometimes, having a destiny is the stupidest thing ever)–
---
---
---
I have said it before and I am saying it again… TJ Klune must possess some kind of magic himself. Once again he has left me in awe…
I have re-read "The Lighting Struck Heart" over and over again…I will continue to do so in the future because it never fails to put a smile on my face. It is the funniest book I have ever read and for those of you who haven't read it yet…
Please go do it now, you will thank me later. 😉
---
This book is one of the 3 books that will follow my favorite group of merry men from "The Lightning Struck Heart". So don't expect any closure at the end…it isn't happening…I won't go into the storyline too much in this review. I think it's best to just go in blind and enjoy everything for yourself. 
All you really need to know is that all our favorites are back together again. Sam, Ryan, Gary, Tiggy, and Kevin are going on a new adventure and this time they will be joined by someone else…
---
Vadoma, gypsy leader, and Sam's grandmother has paid the castle a little visit. She brings with her a prophecy that was written in the stars and Sam's true cornerstone…Ruv. I admit I was a bit worried when I read the blurb. I wanted to know who this Ruv was…
And smash him like Tiggy would do. 😀
No worries though…Ryan is still fine as ever. He is Dashing and Immaculate (capitalized so it's true) after all, so how could Sam ever replace him. It was funny watching him fall over himself with jealousy though… He really used his posing skills in this book. 😁
Now Sam and his friends have to get ready because Sam has a destiny to fulfill…
---
This book was funny as hell, but it had a bit more of a serious tone than "The Lightning Struck Heart". This is because the stakes in this book are much higher…It doesn't end in a major cliffhanger, but a small one.
This is after all only the start of the "DESTINY FUCK YEAH! Trilogy". (because sometimes, having a destiny is the stupidest thing ever) 💗 
---
---