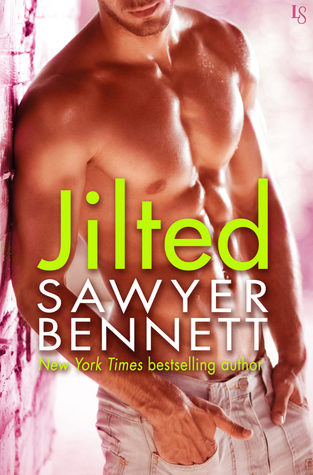 Title: Jilted
Author: Sawyer Bennett
Series: Love Hurts #2
Publisher: Loveswept
Page Count: 232 pages
Release Date: July 11, 2017
Genre(s): Contemporary Romance
Reviewer: ~Mary~
Rating: 4.5 Stars out of 5
~Synopsis~
Hollywood hath no fury like a woman scorned. In this fun, flirty second-chance romance from New York Times bestselling author Sawyer Bennett, an aspiring starlet reconnects with her first love.
"Sawyer Bennett never fails to deliver heroes I fall hard for and heroines I adore."—Violet Duke
Eden Goodnight went to Los Angeles to make it big, not to be publicly humiliated by her cheating fiancé at a red-carpet premiere. But when Eden returns to her hometown to put the scandal behind her, she can barely find a sympathetic shoulder to cry on. Turns out the locals are worse than the paparazzi, and they all think she's turned into a spoiled brat. But in a strange twist of fate, the one person who seems to understand what Eden's going through is Cooper Mayfield . . . the boy she left behind.
Small-town charm is no match for the glitz and glamour of Hollywood. At least that's what Coop's been telling himself all these years. As Eden's old flame—and the landscaper for her family's historic home—Coop feels some responsibility for getting her out of her funk. But as soon as he sees that million-dollar smile, he's a goner. Soon they're making out like teenagers again. But when a life-changing role falls into Eden's lap, Coop just hopes she doesn't give up on a love that's meant to be.
---

*****4.5 Stars*****

---
I've read 2 other books by this author, but I wasn't as impressed with them, as I was with this book. This book was flawless, smooth, funny, HOT, dirty, easy going…and I could go on and on. All in all a great story! I am very pleased and it gave off some good vibes. I was pleasantly surprised.
This book starts with Eden…a famous actress.
She is a famous Hollywood star, who is engaged with Brad, who is a famous actor as well. They are on the red carpet at the premiere of Brad's new movie, when Eden finds out from a reporter, that Brad was cheating on her with his co-star in the movie. She breaks up with him live, right then and there on the red carpet, in front of everyone and leaves. On the way home, she realizes the mistakes she has made.
She is in for another big surprise when she arrives back in her hometown to lick her wounds…What she finds in her very own house is something…or should I say someone…she never expected.
Coop…is an architect landscape.
He lives in Newberry, Georgia, his hometown and is Eden's first love. They were together in high school and their first year in college. He didn't want to leave his hometown, and he went back after he finished college. Coop is a sexy as hell single guy who doesn't do relationships, only occasionally "benefits" dates. He is dominant, persistent, stubborn, hot, kinky, and he knows how to please a woman 😛
Now, after fourteen years, fate brings them back together.
Coop has moved into her house…well actually it's their house. They try to stay away from each other, but it's no good. The attraction between the two of them is just too powerful.
I think Eden was a great heroine, I loved how crazy she was. I liked her determination and her ambition, but I wasn't a fan of her stubbornness. It was a good thing that she realized this herself at the end.
Coop's character was amazing. I totally agreed with him. He knew Eden even better than she knew herself. I knew he couldn't resist her, even if he wanted to. I liked his dark side and that he was very kinky. God how I loved that part. 😛
So as I said, I'm repeating myself again. I loved the book.
Read it yourself and find out why. 😀
---
---