Title: Coach's Challenge
Author: Avon Gale
Series: Scoring Chances #5
Publisher: Dreamspinner Press
Page Count: 210 pages
Release Date: June 26, 2017
Genre(s): M/M, Contemporary Romance, Sport
Reviewer: ~Wendy~
Rating: 4.5 Stars out of 5

~Synopsis~
A Scoring Chances Novel
It's been decades since blackmail forced Troy Callahan to retire from playing professional hockey, and he's built a successful career behind the bench. When he's offered the opportunity to coach the Asheville Ravens—the most hated team in the ECHL—he's convinced that his no-nonsense attitude is just what the team needs to put their focus back on hockey. But Troy is disheartened when he finds that the Ravens have signed Shane North, a player known for his aggression. And it only gets worse when Shane's rough good looks give Troy inappropriate thoughts about a member of his team, even if Shane's set to retire at the end of the season.
Shane's career in the majors never quite took off. Wanting to quit on his own terms, Shane agrees to a one-year contract with the Ravens and finds himself playing for a coach who thinks he's an aging goon and with a team that doesn't trust him, the coach, or each other. Despite his determination to not get involved, Shane unwillingly becomes part of the team… and is just as unwillingly drawn to the gruff out-and-proud coach. As the Ravens struggle to build a new identity, Shane and Troy succumb to the passion that might cost them everything. 
---

*****4.5 Stars*****
---
I am a huge fan of this series and this author. So I was very excited to start this one.
What I like most about these books is that even though they are in the same series, they are so different from one another. I found book 1 a bit quirky, book 2 sexy, book 3 romantic, book 4 very emotional and this one…well this one was really fun to read!!
I loved the banter between these two men !! This was definitely my kind of book.
Now that being said…book 4 is still my favorite because the MC's in that one just ripped my heart to shreds out and put I back in piece by piece.Anyone who has read the previous book (which I recommend you read before this one), knows about the shitstorm that happened with the "Ravens" team. Their former coach, St. Savoy (Laurent's dad) really messed the team up and now that he has been kicked out, they have a new coach to clean up their act.
---
Troy has some personal reasons to coach the "Ravens".
He himself hates St. Savoy for blackmailing him with being gay when he was younger. Coaching this team to success is his way of revenge and giving St. Savoy the middle finger.
Shane is a veteran player, who never really lived up to his potential.
This is gonna be his last season playing and he has decided to go out the way he wants to…by accepting a position for "The Ravens". Shane is also gay, but after all these years he is still in the closet about it.From the moment these two meet, when Shane shows up late for practice, they clash…Problem is, they are both immediately attracted to each other as well,…
…and fighting and arguing with each other gets them hot. 😛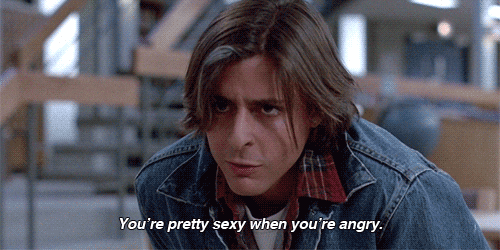 ---
Like I said, the banter between them was hilarious and what followed was delicious. We've got another controlling dirty talker right here!!
You got me too worked up. You like that? Like knowing how fucking bad I wanted my cock in your mouth, wanted to fuck your throat? 
Of course what they are doing isn't really smart. Troy is after all still Shane's coach. But the body wants,  what it wants and in this case, after some time…the heart wants what the heart wants…
Now, these two may not have a romantic bone in their body, but don't think there wasn't any love. They were definitely in love, they just weren't very sappy about it. I don't need a lot of sap in my books though…give me a funny guy over a sappy one any day!!
"You up for round two, old man? Maybe over that table with your stupid puzzle on it?" It's a jigsaw puzzle, Shane. Not a jizzsaw puzzle."
See…funny guys. 😉 Which is also why I love Max, Misha, and Drake so much, who I am happy to say, have some little scenes in this one as well. 😉
Can't wait for the next book (but I will), which I really hope will be about Xavier…he was awesome!!
---
---