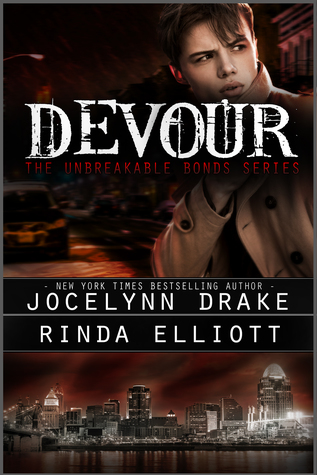 Title: Devour
Authors: Jocelynn Drake & Rinda Elliott
Series: Unbreakable Bonds #4
Publisher: SelfPublished
Release Date: April 28, 2017
Genre(s): M/M, Romantic, Suspense
Reviewer: ~Wendy~
Rating: 5 Stars out of 5
~Blurb~

Ian Pierce is the chef and part owner of the hottest restaurant in Cincinnati, his chosen family is full of happy relationships, and the scruffy, snarky cop who has been haunting his dreams is one step closer to being in his bed. But everything comes crashing down when the past he narrowly escaped nine years ago comes to a deadly head.

Hollis Banner was enamored of Ian at first sight. He's kept his distance, knowing the gorgeous, self-confident man is out of his league. Yet there's no standing aside when Boris Jagger escapes a raid. Jagger's world has been nearly destroyed and this time, the crime boss is coming after Ian and his friends personally.

Hollis will do whatever it takes to keep Ian safe as they escape to a safe house with a couple of Ian's overprotective friends. And Ian finds himself in a race to unlock painful memories—memories containing information that could take down the very last of Jagger's illegal operations forever.

Trigger warning: Flashbacks to abuse could be possible triggers for some.
---

Devour (Unbreakable Bonds #4)
by Jocelynn Drake & Rinda Elliott
*****5 Stars*****
---
To say that I love every single book in this series would be an understatement.
I absolutely adore this series…but this last book, took my breath away!!!
Everyone that knows me, knows I have been crushing hard on detective Hollis Banner ever since he showed up in Shiver…all sick and sniffly.
First things first. I think these books should be read in order, starting with book 1. They have a continuing storyline so I would not advise to read them as stand-alone.
Don't worry if you haven't read the others yet…you are in for a big treat! 😀 
---
Ever since book 1, we have seen Hollis and Ian dancing around each other. Both interested in each other and both doing nothing about it…the sexual tension was through the roof and we have all been rooting for them to finally make a move!!
Sexy Detective Hollis Banner is finally back from his undercover stint and he is worried about Ian.
He is also very ready to lay his claim on Ian… 😛
And Ian….well he is all too happy to finally be claimed. 😀 
---
Boris Jagger is still very much a big threat, even more so in this book and the time has come to take him on. Throughout this book, we get to know more about Ian's past with Jagger and my heart really broke for him. It also made me respect the hell out of him because Ian…he is so much stronger than he thinks. Hollis is the perfect man to show him, how strong he really is and seeing how he treated Ian, made me love him even more.
Their sexual chemistry is delicious and when they finally get together…damn they were so HOT!!!
"You are so goddamn gorgeous, you steal my breath away." I'm glad the other two left because we are gonna make some noise. "
"There is a dirty, dirty boy in me dying to experiment."
But this book isn't just about Ian and Hollis. It's about all of them, Lucas, Andre, Snow, Jude, Rowe and Noah. They all need to come together to get rid of Jagger once and for all. All of these men play an important part in this story and I loved the little pieces we got in Lucas' pov.I don't want to go into the story much more because I think it should be enjoyed without any spoilers.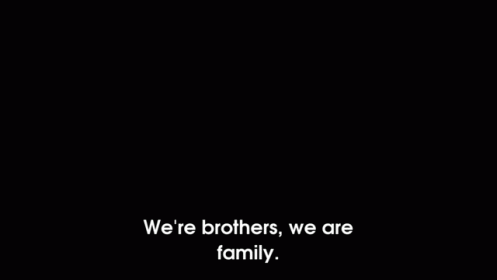 ---
I am a bit sad to say goodbye to this series…I have come to love each and every one of these characters.
I am however happy that Jocelynn Drake and Rinda Elliott are writing a spin-off series. I will, of course, read each and every one of the books in that series.And I will also re-read this series a hundred times more…especially this book. ❤ 
"Ian you are my home. It doesn't matter where we eat or sleep. Wherever you are is where I live."
---
---