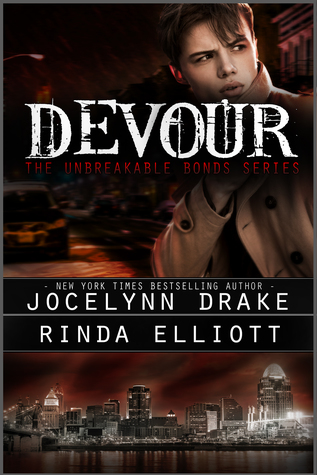 Title: Devour
Authors: Jocelynn Drake & Rinda Elliott
Series: Unbreakable Bonds #4
Release Date: April 28, 2017
Page Count: 249 pages
Genre(s): M/M, Contemporary Romance
Reviewer: ~Judith~
Rating: 5 Stars out of 5
~Blurb~
Ian Pierce is the chef and part owner of the hottest restaurant in Cincinnati, his chosen family is full of happy relationships, and the scruffy, snarky cop who has been haunting his dreams is one step closer to being in his bed. But everything comes crashing down when the past he narrowly escaped nine years ago comes to a deadly head.

Hollis Banner was enamored of Ian at first sight. He's kept his distance, knowing the gorgeous, self-confident man is out of his league. Yet there's no standing aside when Boris Jagger escapes a raid. Jagger's world has been nearly destroyed and this time, the crime boss is coming after Ian and his friends personally.

Hollis will do whatever it takes to keep Ian safe as they escape to a safe house with a couple of Ian's overprotective friends. And Ian finds himself in a race to unlock painful memories—memories containing information that could take down the very last of Jagger's illegal operations forever.

Trigger warning: Flashbacks to abuse could be possible triggers for some.
---
Devour (Unbreakable Bonds #4)
by Jocelynn Drake &  Rinda Elliott
*****5 Stars*****
---
To say that this was one of my most anticipated reads, so far, this year is an understatement.
I've been dying to read Ian's story and it didn't disappoint.
I might even have to bump Jude and Snow(just a bit) because Hollis and Ian are my absolute favorite couple in this series…they were everything I hoped they'd be.
Ever since he met Ian…Hollis has been captivated by Ian.
So when he gets the chance to finally end Ian's nightmares and bring Boris Jagger to justice he doesn't hesitate.But things don't always go as planned and with Jagger still, at large the men must think of another way to entrap him.
Hollis and Ian and Rowe and Noah are sent to a 'safe' house and this is when Hollis and Ian can finally have time together and give in to their explosive attraction to each other.
And it was definitely worth the wait…these two are seriously hot together.
"You're so goddamn gorgeous, you steal my breath away," Hollis said, bending to lick the water from Ian's neck."I'm glad the other two left because we are gonna make some noise."
 With time running out, Ian knows he must confront his past and remember things he's tried to forget.
"These men made his heart beat with strength, with courage…with love and acceptance."
Ian's story, at the hands of Jagger, was heartbreaking to read but he showed such strength of character as the painful memories slowly came back to him.
---
This is a unique series!
A connection between four men that goes way beyond friendship.
They find love, experience loss and heartbreak but are always there for each other and, without a doubt…
…the bond between them is unbreakable…
A highly recommended series!
---
---