Spotlight on an upcoming breakthrough New Adult novel
Abroad: Book One (Abroad #1)
from debut author, Liz Jacobs
Title: Abroad
Author: Liz Jacobs
Series: Abroad #1
Publisher: Brain Mill Press
Page Count: 372 pages
Release Date (Print & Ebook): June 27th wide release; early access June 17th
~Pre-Order Now~ 
---
~Abouth the Book~
Nick Melnikov doesn't know where he belongs. He was just a kid when his Russian-Jewish family immigrated to Michigan. Now he's in London for university, overwhelmed by unexpected memories. Socially anxious, intensely private, and closeted, Nick doesn't expect to fall in so quickly with a tight-knit group of students from his college, and it's both exhilarating and scary. Hanging out with them is a roller coaster of serious awkward and incredible longing, especially when the most intimidating of the group, Dex, looks his way.

Dex Cartwell knows exactly who he is: a black queer guy who doesn't give a toss what anybody thinks of him. He is absolutely, one-hundred-percent, totally in control of his life. Apart, maybe, from the stress of his family's abrupt move to an affluent, largely white town. And worrying about his younger brother feeling increasingly isolated as a result. And the persistent broken heart he's been nursing for a while . . .

When Nick and Dex meet, both find themselves intrigued. Countless late-night conversations only sharpen their attraction. But the last thing Nick wants is to face his deepest secret, and the last thing Dex needs is another heartache. Dex has had to fight too hard for his right to be where he is. Nick isn't even sure where he's from. So how can either of them tell where this is going?

A master of building tender and meaningful characters with heartbreaking stakes, Liz Jacobs deftly introduces audiences to the compelling, deeply personal narratives possible in coming-of-age and New Adult romance. ABROAD is an instant classic that approaches LGBTQIA+ and immigrant experiences from a powerful own-voices perspective.
---
~Teasers~

---
~About the Author~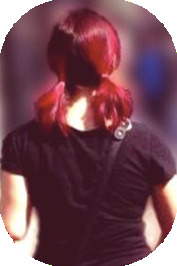 Liz Jacobs came over with her family from Russia at the age of 11, as a Jewish refugee.  All in all, her life has gotten steadily better since that moment. They settled in an ultra-liberal haven in the middle of New York State, which sort of helped her with the whole "grappling with her sexuality" business.
She has spent a lot of her time flitting from passion project to passion project, but writing remains her constant. She has flown planes, drawn, made jewelry, had an improbable internet encounter before it was cool, and successfully wooed the love of her life in a military-style campaign. She has been nominated for the Pushcart Prize for her essay on her family's experience with immigration.
She currently lives with her wife in Massachusetts, splitting her time between her day job, writing, and watching a veritable boatload of British murder mysteries.
~Connect with Liz~
---