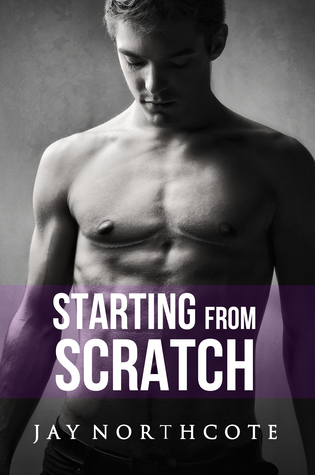 Title: Starting from Scratch
Author: Jay Northcote
Series: Housemates, Book #5
Publisher: Jaybird Press
Release Date: April 12, 2017
Genre(s): M/M, Transgender, Contemporary Romance
Length: 57,000 words
Cover: Garrett Leigh
Reviewer: ~Judith~
Rating:*****4.5 Stars*****
~Buy Links~
…
---
~Blurb~
Starting over isn't easy, but Ben is ready to live his life as the man he was always meant to be.
Ben is transgender and back at university after hormone treatment and chest surgery. His new housemates have no idea about his history and Ben would prefer to keep it that way. He's starting from scratch and his life is finally on track, except in the romance department. The idea of dating guys as a guy is exhilarating but terrifying, because if Ben wants a boyfriend he'll have to disclose his secret.
Sid is drawn to Ben from the moment they meet. He normally gets what he wants—in the short term at least. Ben's guarded at first, and Sid's not used to guys rejecting his advances. He eventually charms his way through Ben's defences and helps Ben on his journey of sexual awakening.
It doesn't matter to Sid that Ben is trans. He's attracted to the whole person, and isn't worried about what is—or isn't—in Ben's pants. They're good together, and both of them are falling hard and fast, but Ben's insecurities keep getting in the way. If Sid can convince Ben he's committed, will Ben finally be able to put his heart on the line?
Although this book is part of the Housemates series, it has new main characters, a satisfying happy ending, and can be read as a standalone.
…
---
Starting from Scratch (Housemates #5) 

by

Jay Northcote
*****4.5 Stars*****
---
Another great book in this super sexy series but can be read as a standalone.
Ben and Sid were briefly introduced in the previous book.
Ben is transgender and has gone through his transition.He returns back to the shared house in the New Year determined to try and be more outgoing and interact with people more.
---
Sid is Jude's ex-hook up from the previous book.He's just recently broken up with someone so when he gets an invitation from Jude inviting him on a night out with his friends he thinks why not?
---
Sid and Ben are drawn to each other, not least because of everyone else in part of a couple.They get on well and Sid finds himself getting more and more attracted to Ben, so much so that he doesn't hold back.
"So, what do you say? Want to try having sober sex with me?"
Poor Ben is like a rabbit in the headlights…he's still trying to adjust emotionally and still has insecurities about his body.
And my heart ached for Ben, at times, as he battled his inner demons.
However, they start to text each other and develop a friendship but when feelings get involved Ben knows he has to tell Sid about being trans.I loved how Sid reacted….all he wanted was to make Ben at ease.
I've read a few transgender books but this is the first one where I came to fully appreciate that people have choices, things aren't straight forward and that Ben's decision regarding his own personal transition was right for him.
The relationship between them developed at exactly the right pace and…
…they are just perfect together.
---
I just have to mention a new character that was introduced.Johnny…how I loved that dirty boy, with his messy blonde hair and love of eyeliner.I'm keeping everything crossed that it's his story next.
Definitely a recommended read!
…
---