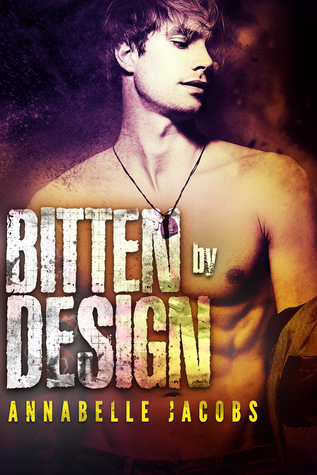 Title: Bitten By Design
Author: Annabelle Jacobs
Series: Regent's Park Pack, Book #2
Publisher: Annabelle Jacobs
Release Date: March 30, 2017
Length: 80,000 words
Genre(s): M/M, Romance/Paranormal
…
~Buy Links ~
…
---
…
When the last thing you want, is everything you need….
Seb Calloway isn't interested in shifters. After his best friend bonded with one, he avoids getting involved with them—no matter how hot they are—to prevent the same thing from happening to him. Why take the risk for a few hours of fun?
Tim Walters is the pack doctor. Considered to be mild-mannered and non-threatening by pack standards, he prides himself on being able to stay calm and maintain his control at all times. Desperate for a bond of his own, he knows his interest in Seb is an exercise in futility, but he can't seem to help himself.
When news emerges that threatens Seb's safety, he and Tim need to fake a relationship to keep Seb safe. Despite Seb's refusal to be anything other than friends with benefits, what starts out as pretend, quickly becomes more—for Tim at least. If Tim doesn't want to end up heartbroken, he needs to prove to Seb that loving a shifter doesn't mean losing himself.
…
---
Bitten By Design (Regent's Park Pack #2)
by

Annabelle Jacobs
****4 Stars****
---
I really enjoyed book 1 in this series, so I was very excited about this one.
Even though this book is focussed on a different couple,  I would still suggest reading book 1 first. Things can get quite confusing if you don't, since part of the storyline from the previous book, continues in this book.
This time we get Seb and Tim's story.
Seb is Jared's (book 1) best friend. If you've read book 1 then you know that Jared, even though mated with a shifter doesn't have the highest opinion about shifters in general. Seb however never had any problems with shifters. He likes them well enough and he even had a couple of hook-ups with some.
---
What he doesn't want is to start a relationship with any of them, though. He has seen what a bite of a shifter can do…it certainly changed his best friend. He wants to be with someone who loves him because of him and vice versa, not because of some kind of magical bond that forms after a bite. Seeing his friend going from hating shifters to loving one, all in the blink of an eye, because of one bite, doesn't appeal to Seb at all. So even though he is extremely attracted to Tim, the pack doctor, he is keeping his distance….
---
Tim is the pack doctor.
He is considered the calm and collected one of the pack. Now that doesn't mean he won't wolf out when necessary. It just means that Tim has a very strong hold on his wolf and an awesome sense of control. And resisting Seb is taking every ounce of that control.
Ever since seeing Jared and Nathan being so happy together, Tim has wanted that special someone to form a magical bond with, for himself. He would love to be with Seb, but Seb has made it perfectly clear that he isn't interested in any kind of bonding. So he tries to control himself and keep his distance.
But what will happen when treats from the past resurface and these two men are forced to spend a lot of time together.
Will they be able to control their attraction….
---
Just like the previous book, I really enjoyed this one.
These books are different than any other shifter books I have read. For one, the shifters don't fully shift unless it's a full moon, they only half shift…claws and teeth. So just like in the previous book, don't go expecting a lot of wolves running around. Also..the biting off a human has to be requested. It is illegal, to just go around biting humans. A bite also doesn't guarantee that the human will change into a shifter….
So, to fully understand this book, I strongly suggest you, read book 1 first.The steam in this one was pretty hot….These shifters sure know what they like…
…and they don't mind getting down and dirty …
---
I can't wait to see what's next.
I really liked Alec, so I am can only hope that he and Mark will be getting their story.
…
---