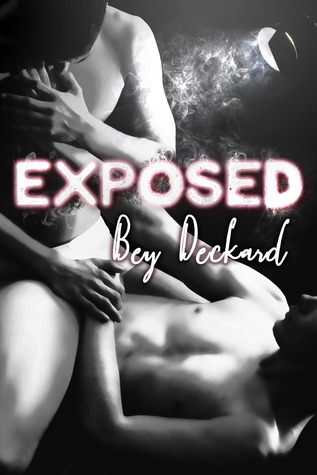 Title: Exposed
Author: Bey Deckard
Release Date: March 15, 2017
Page Count: 264 pages
Genre(s): M/M, Contemporary Romance
Reviewer: ~Jan~
Rating: 2.5 Stars out of 5
~Blurb~

Note: This is not a BDSM novel and there is no D/s relationship.

With middle-age looming, Greg offsets his boring day job with what truly feeds his soul: photography. The camera is an extension of himself where he exposes his passion for the intersect of pleasure and pain. However, the lens also acts as a barrier, protecting his subjects from the shameful mistakes of his past, and Greg is left isolated and lonely.

Emyr stands on the cusp of fame, but adulation and abuse are both eroding his confidence, and one night, at the river's edge, he seeks solace in the rain, hoping to hide his tears.
The photographer and the virgin rock star share an accidental connection on that dark, drizzly night. When Greg invites Emyr back to his hotel room, no strings attached, the young man should have bolted. Instead, an odd sense of trust allows him to follow Greg's lead.

When the camera comes out, Emyr learns the stage isn't the only place he loves to perform as Greg touches something inside him that rarely awakens. Faced with a beautiful, talented boy whose soul is as lonely as his own, will Greg be able to face his past and come to terms with it, or will he run from the connection he so desperately desires?
---
Exposed 

by

Bey Deckard
***2.5 Stars***
---
Exposed wasn't exactly what I was hoping for.
Some bits I liked, others not so much.
It took me a while to grasp what wasn't working for me, but by the end of it, it was clear.Greg's character (Daddy) brought to the story a heavy and traumatic baggage from his past.
The author exposes Greg's broken side, his vulnerability, insecurities, and fears of leading a dominant relationship again. Add to all that, an extra and new aggravating factor: an age gap of 20 years. Greg was scared and thus always holding something back, when the other part, Emyr, wanted to get into this shite heads in!
This combo wasn't appealing to me.
It was like throwing a damp towel on all my dirty expectations. You have a kink? Daddy kink? Whatever kink? Own your shit.Sometimes, a bit of depth and angst mixed with kink works for me. This time, it failed.
I am sure this will work brilliantly for some readers. I for one was looking for something more shameless.
---
---