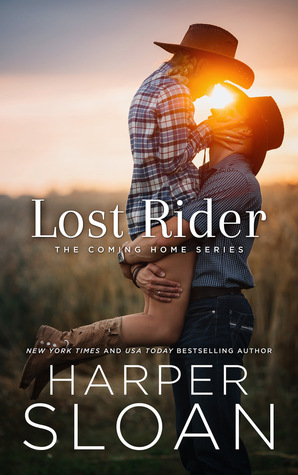 Lost Rider (Coming Home #1) by Harper Sloan
****4Stars****
---
I have a very deep love for cowboys, so when I was given the chance of reviewing a "cowboy" book, by one of my favorite authors…I jumped on it !!
You know what they say….and I totally agree !!
---
"Lost Rider" is the first book in this new series by Haper Sloan.
It was very different, from all the other books I have read by her (which are a lot), though one thing has not changed…. the delicious alpha hero.  😉
---
The beginning of this books has some flashbacks to the past when Maverick and Leighton were much younger. Leighton has always had a huge crush on her best friends older brother.
---
Maverick had a really hard time growing up.
His father was an absolute asshole and the only thing that kept Maverick going were his dreams of bull riding…and Leighton. He knows he can't stay…he is slowly dying inside. He knows she has a big crush on him and he knows that she would follow him to the end of the world if need be…So he does the only thing he can think of. He breaks her 16-year-old heart into little pieces and goes off to chase his dreams.
---
Fast forward 10 years and Maverick is forced to come home again.
His bull riding career has come to a screeching halt and his siblings need him because their father has died. Coming home also means…
…Coming face to face with the one girl he never wanted to leave…
Leighton was crushed when Maverick broke her heart and left…
But she has since grown up and made a life for herself. Maverick still owns a piece of her heart though and she doesn't know if that will ever change. Now Maverick has come back and he has made it very clear he wants her and he intends to never let her go.
But how will she ever trust him again...
---
This was a very low on angst, second chance story.
Not only a second chance on love but a second chance on family and life. I enjoyed reading it, though I would have enjoyed it more if there would have been a bit more angst. I also would have preferred a bit more dialogue. The MC's spend a lot of time in their heads…
I liked Maverick and Leighton, though Leighton did annoy me at times. I know what Maverick did to her when she was 16, was extremely shitty, but in my opinion, him leaving was a necessity. Not everything was about her, though for some reason, she made it out to be. Thankfully she was also funny as hell, so that made up for her annoying parts.
As for Maverick…yeah he was a major asshole in the beginning. But what can I say…I like assholes and he did try very hard to redeem himself. He was also a major dirty talker, which get's me all the time.  😉
The steam in this book was delicious…
---
"I was lost once. A Rider without the ability to do what he loved. I came home even though it was the last place I thought I wanted to be, and in the process not only did I find myself again, but I also found that my reason for livin' didn't have shit to do with ridin'. " 
---
I do have to say that "Corps Security" and especially "Hope Town" are still my favorite series by this author, though. I don't think anything will change that. Still, this was a very sweet, low on angst and high on love "second chance" story. I am definitely reading the next book !!
An arc was kindle provided to me by the author, via Netgalley in exchange for an honest review. 
---
---