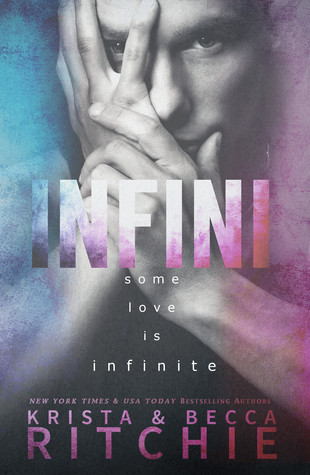 Infini (Aerial Ethereal #2) by Krista Ritchie & Becca Ritchie
*****5 Stars*****
---
Wow…it seems that everything these authors write turns into gold !! I have loved every single book that I have read by these awesome ladies !!
---
Once I started this book, I could not put it down, so I read it in one sitting. I was sucked right into the story and the amazing characters. Just like all the other books I have read by these authors (Addicted / Calloway series) this book isn't just about two people finding romance. It's about family and all members of this amazing circus family play a very important part.
---
This book took me on an amazing emotional rollercoaster and I got to experience so many emotions. I went from laughing to cursing to crying to swooning and I loved every single second of it.
Luka is part of the Kotova's. A Russian/American family, that performs in various circus shows. Luka has been part of the circus since he was a little boy. He has a lot of personal issues he struggles with. When he is 14 years old he forms a very close bond with Baylee, who is also a teenage performer in the circus. She has her very own struggles, but together, they deal. Their bond is so incredibly strong, but it also leads them to their destruction.
I have decided not to go into the plot much further than this. I think this book should be read without any major spoilers.
---
Luka was such an amazing man. I adored him right from the start. He had a very sweet, loving and caring personality. I think everyone deserves a Luka in their life. I also loved the bond between him and his siblings. Nik may have been their rock, but Luka was the glue holding them all together.Baylee was also an awesome heroine. I really think these two were absolutely perfect for one another.
They were real soulmates.
"I have lived partially. Halfly. Incompletely. To be whole, I did not know until my bones thundered and bellowed for more."
---
Their journey wasn't the easiest and my heart broke right along with theirs. But sometimes….the hardest of journeys have the best destination.
I for one hope there will be many more books in this series!
~~~~~~~~~~~~~~~~~~~~~~~~~~~~~~~~~~
---
---