~Highly Recommend~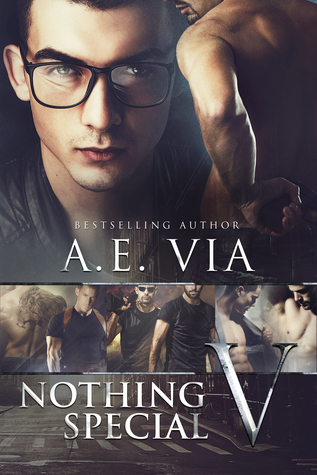 Nothing Special V (Nothing Special #5)
Genre ~ Contemporary M/M Romance
Kindle Edition, 391 pages
This book is a part of a series but can be read as a stand alone.
~Highly Recommend~
---
The boys are back and fiercer than ever!
"We were a unit tonight, moving as one. Even apart, we are deadly, but when combined – we are f**kin' unstoppable." ~~ God ~~
---
Atlanta's notorious narcotics task force is at it again. They are stronger, bigger, and better than ever. Especially when a city councilman sends RECON Marine, Edwin Steele – who's been blacklisted from his Oakland department – to join the team. God and Day weren't recruiting. They have a lot on their plates, like the fact they're supposed to be getting married soon. They don't have the time or the patience to integrate a decorated war hero with a slight chip on his shoulder into their well-oiled machine.
---
A hothead that's uncontrollable and terrible with authority… but wasn't that their team motto?
---
Steele was ready to hang up his shield. He was done fighting with bigoted bastards that couldn't respect the job. He was good at fighting; he just needed the right team to fight with. When his uncle – City Councilman, Rasmus Steele – shows him a video of God's team in action, he knows right away, it's where his nephew belongs in order to restore his faith.
---
Steele pointed to the driver, a behemoth of a man wielding those massive firearms like a true beast… like a soldier. "And him. Who the hell is he?"
"That's your new boss. Lieutenant Cashel Godfrey… they call him… God."
---
Steele was skeptical about his new placement, but when he meets God's technology specialist/computer genius, "Tech," he's willing to give it his all, and he definitely shows and proves.
Tech is stunning. His sweater vest and khakis, a stark contrast to the blue-jeaned roughnecks he works with. A beautiful sheep amongst the wolves. Steel thinks there's no way the brilliant man would be interested in a hardhead like him, but Tech has a few badass hidden talents of his own and manages to fool him… fool all of them.
---
This story is a part of a series but can be read stand-alone. It does not end on a cliffhanger and has a HEA. There are no multiple pairings in this novel.
---
 Review here:
---